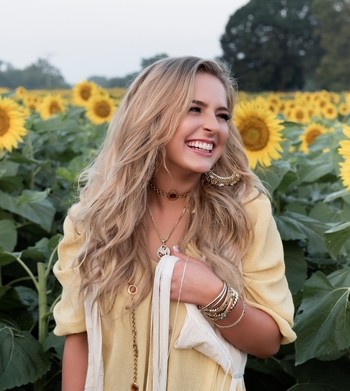 A rafter-reaching voice, classically trained chops, literate lyricism, and a sassy spark enable Mackenzie Nicole to quietly rewrite the rulebook for pop with her debut album The Edge recently released via Strange Main a division of Strange Music.
Her debut single "Actin Like You Know" at age 16 boasted a cameo from labelmate Tech N9ne. Early acclaim came as the track racked up over 3.9 million YouTube views and 1.9 million Spotify streams, while the song served as a centerpiece on the Tech N9ne Collabos album Strangeulation Vol. II. 2017 saw her feature on two songs from Strange Reign in addition to guesting at various tour stops. The song "Deleted" turned up as her next solo hit with over 978K Spotify streams and 599K YouTube views to date.
Simultaneously, the young singer assembled what became her full-length debut and the first release for the Strange Main imprint, The Edge, co-written with and produced by Los Angeles duo The Jam.
Paving the way for the album with the single "Preview," which begins with orchestral flourishes before building towards a climactic and catchy chorus. "For two years, I was off and on with this guy," she sighs. "'Preview' takes place when we were on again. Even when things are terrible and going horribly, we still end up back with each other. We had to cut things off, dive in, and finally see it through though. 'Preview' was the choice to dive in. This relationship was good for the art, but bad for my mental health," she adds with a laugh.
She may only be 18 years old, but this promising artist has already spent most of her life honing her craft, and with her debut The Edge she delivers a timeless body of edgy-pop infused work.
@skopemag: Where are we talking from today?
Mackenzie – We are talking from my cubicle up at Strange Music HQ. Exciting, I know, ahaha. All that talk you hear from me about being heavily involved in the executive side of my label is far from just talk — I'm in office every day working my own campaigns, contributing heavily to the overall formation of our pop division, and more.
@skopemag: What is the most current project that you are working on at the moment?
Mackenzie – Right now I'm in the post-release stage of my debut album The Edge, which came out April 13, and I'm heavy into the planning of what's "next". I am happy to continue working my album, but like any artist, I'm dying to release more work.
@skopemag: Got any music posted that we can stream and check out?
Mackenzie – Yes! You can hear my debut album The Edge and my singles on all streaming services under "Mackenzie Nicole". If you search my name, you'll also find a plethora of features dating back to when I was just nine years old!
@skopemag: When you began your journey in music were your family/friends supportive?
Mackenzie – I've had the support of my family, even though the entertainment industry is a circus that no sane person wants a loved one to join. Shouts to my parents for that, I know that this career is hard on all of us at times. My friends have also been wildly supportive as well. My best friend Kelly even travelled with me almost everywhere before she left for college, and she still visits me on the road a lot.
@skopemag: What is it about music that you knew this was more important than all other artistic endeavors?
Mackenzie – I actually don't think music is more important than all other artistic endeavors. I think they're all equally important and impactful. I always say that I don't consider myself a musician first — I am an artist first. I want to get deeper into music and experiment with production and engineering. I want to eventually delve into film-making. I already do graphic design on the side. I've designed tattoos for friends. I write constantly. I love art, and that will never be exclusive to music.
@skopemag: What do you think makes some artist/bands resonate with the masses when others do not?
Mackenzie – I think it's more about access than anything. Not everyone is a music junkie who scours the soundwaves for new music and obscure artists, even if everyone enjoys music because we as humans are predisposed to like having some agreeable sound. So, I think artists that have access to the radio or other forms of exposure are probably just bigger simply because their audience is larger by definition. I don't think it's always talent based. There is talent in the mainstream and the underground. Unfortunately, the music industry (like anything else) is built like a pyramid — it's smallest at the very top, where the best vantage point is.
@skopemag: When you are not doing music what else do you enjoy?
Mackenzie -I work a LOT, whether it's on my primary career here in music, one of my side projects like graphic design, or on some recreational experiment like trying to learn how to produce. I also write constantly in all forms, screenplays, books, ramblings of all varieties. My favorite pastime however is exploring cities, whether it be at home here in Kansas City or on the road. I love love love trying indie coffee shops and wandering around streets and stores. Cities make me feel really alive.
@skopemag: How much time per week do you devote to music & social media marketing?
Mackenzie – This is hard to quantify because this job far extends the 9-5. There will be periods where I travel for work so frequently that I don't spend a solid week at home for 3 or 4 months. My job includes, writing, recording, meetings, executive production, creative direction, and so much more it's endless. Unless I'm sleeping, which is rare, I'm working.
My social media manager Kaylie (@tacokaylie) is a champ, and she and I literally are on the phone 24/7 discussing marketing. Our cubicles are right next to each other. We spend hours plotting and planning.
@skopemag: Should I feel guilt as an industry insider for paying $10 a month for Amazon Music Unlimited and having access to all music as I please?
Mackenzie – NO! Streaming is happening, whether we like it or not, but the only way to streamline it into profitability is to get as many paying subscribers as possible across all platforms.
@skopemag: What kind of environment & mood do you feel most creative towards your music?
Mackenzie – I feel most creative when I'm travelling, especially to big cities. Travelling is experiential, and experiences change you. As you change, you unlock new dimensions of creativity within yourself. I joke that I spend 90% of my time alone in hotel rooms, so what else am I going to be doing except creative work?
In terms of mood, I must be feeling okay. Not perfect, not even positive, but at least not devastatingly depressed. I cannot write when I am extremely dark because I already did that on this last album and it sent me into a place that I'm still struggling to get out of almost a year later.
@skopemag: What is coming up for you & where you @ online?
What's next? More shows! More music! I'm popping up on select dates of my labelmate Tech N9ne's Planet Tour right now, and I'm doing some one-offs of my own as well. Like I said, I'm also plotting my next releases. I have so much coming. To keep up, follow me:
Instagram: @therealmackenzienicole
Twitter & everything else: @MackenzieNicole
Every streaming platform: Mackenzie Nicole