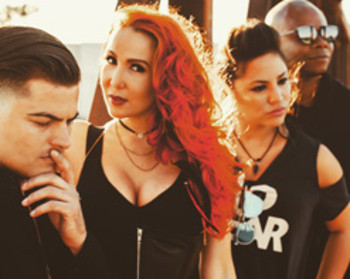 The genre of electronic pop has become increasingly stale over the years. So many one-hit wonders crowd the airwaves, there are very few artists who deeply captivate their audience and create life-long fans. LA's Beauty in The Breakdown are coming out swinging, with their distinctive percussion-driven sound, to re-invigorate the world of pop and continue to build their fan-base, one listener at a time. Their other-worldly new single, "Thinkin Bout You" is a show of force, asserting that the band is poised to rise like a phoenix in 2018!
http://www.beautyinthebreakdown.com/
Setting them apart from the scene, BiTB is comprised of world-renowned musicians with the resumes to back it up. Front-woman Chasity Ashley has performed drums and percussion for some of music's biggest legends including Duran Duran, Cypress Hill, Tom Morello, and Alice In Chains, as well as having played on Vans Warped Tour and opening for Mötley Crüe and Aerosmith. Fellow songwriter, band-mate, and musical partner, Ian Alexander contributes his years as an electro/rock guitarist to round out the nucleus of the band. They have also enlisted a star-studded cast to accompany them in a live setting including Grammy award-winning keyboardist, Tim "Sonix" Rouse and renowned bass sensation Alexandria Reyes. With Ashley's tribal percussion influence sewn into the fabric of this compelling quintet, they've crafted a intriguing hybrid of pop music that is unafraid of breaking genre boundaries.
Beauty in The Breakdown's future-pop vibe is encapsulated in their new single, "Thinkin Bout You." Inspiration for the song struck Ashley in the form of a dream. Imagine if you found the one. After all the casual flings, the love of your life was now in your hands. You make a vow to be with each other until death, without a doubt in sight. But one night, out of the blue, your lover leaves never to return again. Do you let the despair eat you whole? Or do you rise above and forgive? "Thinkin Bout You" is the redemption story in this tale, taking the experience as a lesson and an opportunity to funnel the energy of the heartbreak into something bigger than yourself – your true destiny.