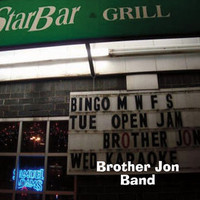 It's time for a summer road trip. Roll down the windows, let the wind blow through your hair and cruise to the song that may very well become your warm weather anthem.
"Be On Time" is an easy flowing tune cut from the album "Open Jam" by Minneapolis rock band, Brother Jon Band. The opening guitar riff immediately scoops you up and transports you back to a 1970's open field concert where you are barefoot and dancing with flowers in your hair without a care in the world. Jon Rabideaux, lead vocalist and guitarist tells the coming of age story of the slacker guy who loses his job and loses the girl all because he simply couldn't be on time. Jon's vocals are unique and unforgettable; one of those singers you recognize immediately, even if it's a song you have never heard before.
With a patchwork mixture of classic rock and roll, some blues and a pinch of southern fried rock, Brother Jon Band creates a familiar yet new sound that's only been achieved by those rare regional bands that come around once every decade or so. As the subject of the song figures out that life moves on, whether he's there or not, the band takes the you into the chorus with lively rhythm and electric guitar and that signature southern blues harmonica.
Yes, the guy gets his hair cut and gets a new job, all the while learning to be on time. The lyrics are simple and relatable but the music is anything but. This tune is exciting, fresh, fun and road trip worthy! I want more!
Edwina Caito