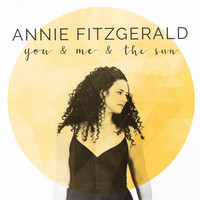 I'm getting punched with such pristine grace as Annie Fitzgerald belts out the song "Black and Blue".  This track is off of Annie's second album titled You & Me & the Sun which just came out on June 1, 2018 with a CD release party at The Hook & Ladder Theatre & Lounge in Minneapolis, Minnesota.  As a fan of the sun rays myself and my own recent wedding/birthday celebration on June 2nd, these are all sounds, emotions and feelings worth celebrating on "Black and Blue".
This singer/songwriter finally wound up back in her home state of Minnesota after 10 years in NYC, which gave way to a whole new perspective on life around her.  Going back to her roots allowed Fitzgerald to tap into a deeper connection emotionally that came across to the listener.  A newfound inspiration and sense of artistry was heard as Annie truly blossomed here.  The song starts up with silky, smooth guitar chords that hit me right away.  Annie Fitgerald really impressed me with her soulfully stylish voice where distinct tones & notes were hitting me from all directions.  With such a purity to her voice, Annie has a commanding presence as a singer where you will take notice immediately.  The blend of classy Pop and rock and roll made for one enjoyable listening experience.
The entire recording was put together so well as the production, musicianship and vocals were all spot on and nicely polished.  Annie Fitzgerald took a big swing with "Black and Blue" and I would have to say she knocked it outta the park with a KO!  I can't wait to hear the entire album, You & Me & the Sun, because I'm sure it's packed with sheer elegance, thoughtful lyrics and finely-tuned playing.  Annie Fitzgerald and her latest single "Black and Blue" are like a well-oiled machine that deserves respect, attention and major airplay.  As an artist to watch and winner of the Best of the New Writers Showcase Compilation Album by Songwriters Hall of Fame, Annie Fitzgerald is one to keep a close eye on.
http://www.anniefitzgerald.com/
By Jimmy Rae (jrae2@att.net)