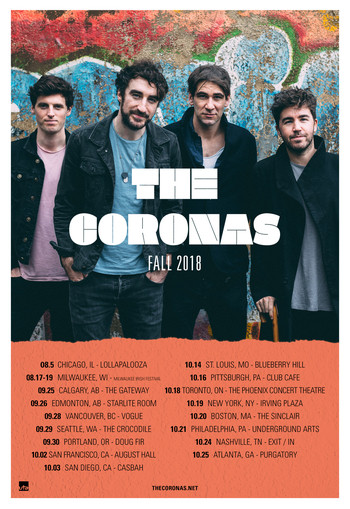 So we are so excited to have an amazing band here with us – The Coronas. We got to chat with Danny O'Reilly, lead singer for The Coronas. These guys are keeping busy with their new album 'Trust the Wire' and a huge North America tour this year. Lets get into it!
@skopemag: Where are we talking from today?
We're currently rehearsing in the sunny south east of Ireland in Ballymoney, Co. Wexford. The weather is amazing which is unusual for Ireland!
@skopemag: Got any music posted that we can stream and check out?
Yes we're currently releasing tracks from our forthcoming EP which we recorded in Dublin in January. The EP is called Reprise and the latest track to stream is here ("Not Sure How to Lie"): https://lnk.to/howtolie
@skopemag: When you are not doing music what else do you enjoy?
We love sport; football, golf, rugby, anything really. We also love Christopher Nolan movies and Mario Kart
@skopemag: In what kind of environment & mood do you feel most creative towards your music?
We work best when we lock ourselves away, just the four of us, in a house in the countryside somewhere – which is what we're doing right now. Knoxy our bass player is an amazing cook so he usually feeds the rest of us. We're not planning on recording a new album until next year so it's nice to be creative when there isn't too much pressure on
@skopemag: What is coming up for you & where are you @ online?
We've got a huge American tour coming up in the Fall and we're playing some cool festivals this summer too including Lollapalooza and Austin City Limits
The best place to find our music, tickets, dates etc is – http://thecoronas.net/