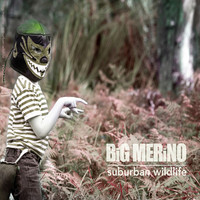 I always have to keep in mind not to judge a book by its cover because at first glance I'm seeing a boy in a strange mask pointing aimlessly at nothing.  So, right away I'm not sure what to think but as I move past the imagery and into the music I'm suddenly revived.  Considering this is a debut album, I am heavily impressed with the overall production of this album.  Big Merino comes from Down Under but nothing depressing or low-energy about Suburban Wildlife. 
Big Merino delivers vibrant music that is loaded with a diverse mix of elements like: rock, jazz, country, soul, pop and blues.  The Australian-based band features: Stuart Davis on lead vocals/guitars, Alex Craig on lead guitar, Peter Richardson on bass and Colin Sevitt on drums.  With influences like: The Rolling Stones, Jackson Browne and Glen Hansard, co-writers Davis and Craig bring their songs to life with a full tone.
The album starts up with a deeply sensitive tune called "Black Cockatoos" that is soaring high with free-floating energy.  With a delicate melody, Big Merino is in the zone and flying all around on this track.  Get ready for a bluesy jam and jazzy-sounding number that offers a big 'n' bright sound on "How Can You Be So Sure".  Track three, "Turn This Boat Around", provides a soulful, island-esque vibe that makes me want to grab a Captain and Coke and soak up the rays.  Prepare to hit the open waters with a cool 'n' crisp style that moves & grooves with catchy hooks on "Turn This Boat Around".  The next song is "Hand Grenades" that pops out due to its smooth flow and innocent times.  Chuggin' along you'll be rockin' on down the tracks to the sweet mojo of "Blackwater" complete with pleasing harmonica playing and stand-out guitar licks.  Write yourself a mysterious and sleek persona that will make you wonder what lies ahead as you cautiously listen to track six, "Love Letter From a Fool".  "Sometimes" is music to my ears due to the rocktastic guitar strumming while "Dramamine" will have you clapping along to the fan-friendly beat.  Track eight, "Hands in the Fire", has Stuart Davis getting personal and digging deep lyrically with a strong performance and connection.  Big Merino closes the show with a song titled "Maybe I was Sleeping" that will keep you on your toes and have you feeling wide awake with this little lullaby.
The 10-track recording was just recently released on May 13, 2018 and I expect this album to get major traction not just in Australia.  Suburban Wildlife is full of life and surprises and not something that can be tamed or contained within a square.  The music is vast as Big Merino dives "Into The Great Wide Open" (Tom Petty & The Heartbreakers).  This band intrigues me and their debut album blows me away as I am sensing endless and untapped potential in Big Merino.
By Jimmy Rae (jrae2@att.net)