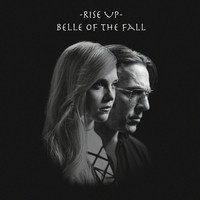 A truly lovely undertaking, Belle of the Fall's expressive impressionist "Rise Up" feels truly inspiring. Done with such care, Belle of the Fall draws from dream pop, twee pop, and folk, among others. Myriad genres are brought together throughout the entirety of the album adding to its all-consuming spirit. By far the true heart and soul comes from Belle of the Fall's soothing vocals, which at times recalls the grace of Victoria Legrand's work with Beach House. Overall, the whole album feels akin to embarking on a great journey full of impressive twists and turns.
On the opener "The Great Unknown" Belle of the Fall goes for a mysterious aura, with an almost shoegaze-like fervor to its tribal rhythms with disembodied vocals swirling about. A jazzy quality informs the loose and nimble "Two" with lyrics that possess a true tenderness to them. Gentleness works wonders on the quietly introspective "Nothing Left to Lose". "Spinning Around the Sun" slows things down offering up a reflective fervor. By far the highlight of the album is the title track "Rise Up" that taps into a defiant spirit. The openness of "Time" feels quite inviting, allowing for a bluesy atmosphere to take hold. Intimate with its carefully considered storytelling the thoughtful "Super Moon" has a hushed awe to it. Neatly bringing the album to a conclusion the disorienting "The Outer of Bounds" harks back to the opener.
https://www.belleofthefall.com/album/692095
With "Rise Up" Belle of the Fall crafts a joyous realm, one that embraces a joyous palette of color.
By Ben Smarther