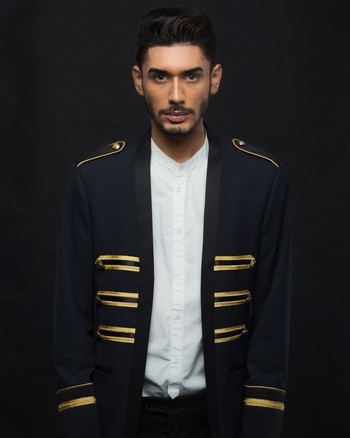 Pop recording artist Emin Eminzada, today announced the release of his upcoming international release, "Behind the Curtain". The powerful ballad showcases the classically trained artist and musician's baritone voice. "Behind the Curtain" is produced and written by 2x Grammy nominated producer/singer-songwriter Drew "Druski" Scott (Teyana Taylor, Zendaya, Nick Jonas, Jake Miller, Fantasia, Michelle Williams) and Grammy award winning singer-songwriter Carla Carter (Janet Jackson, Usher, Keyshia Cole, Carly Rae Jepsen, Mary J. Blige). The single will be released on all digital platforms May 18, 2018.
Emin (21) was born in Baku, Azerbaijan – a country located in the Caucasus region of Eurasia where Eastern Europe and Western Asia meet. Emin, whose father is a revered politician and mother a skilled bibliographer, grew up with a worldview as his backyard. He was a soloist of the State Children's Philharmonic and graduated from the Children's Music School No. 35 as a student of famous Azerbaijan opera diva, Fidan Kasimova. Through song, Emin learned five additional languages at an early age to the surprise of his mother.
"When I was around eleven years old, I was sitting with my mother and we were watching an opera on television," recalls Emin. I told my mother I could sing the exact
same way with my treble-tenor voice. She was shocked and I began my professional musical career learning classical pieces in Italian, Spanish, German, French, Russian and Azerbaijani."
By the age of 15, Emin was winning classical music competitions throughout Europe. Emin has won prestigious classical awards including the "Golden Microphone" in Kazakhstan, the "Elia Catalano" in Italy and the "Opus 2012" in Spain. In 2012, Emin sang with famous Italian singer Robertino Loreti during his concert in Baku. Emin sang a duet of compositions with Loreti including "Jamayka" and "O Sole Mio". Loreti titled Emin as the "Robertino of Azerbaijan".
As one ode to another, "Behind the Curtain" is Emin's tribute to those who have supported him in his music career thus far. The song's music video, directed by Emin himself reveals the singer being comfortable in his own skills.
"I've learned to be comfortable with who I am," says Emin. "Everyone will not have your best intentions even those closest to you. I want people to understand that no matter what position we are in, if we are comfortable with our environment and ourselves no one can stop us."
Emin's determination is what has brought him to America to pursue his dream in the music industry. In 2016, President IIham Aliyev signed an order to provide young musicians and performers with a monthly scholarship. Emin was one of the artists from Azerbaijan selected to receive the scholarship. In addition, his name will be scribed in the "Golden Book of Young Talents" in Azerbaijan. His talent caught the eye of Grammy Award winning singer-songwriter Carla Carter through social media. Carla then introduced Emin to producer/singer-songwriter Druski who is producing a few songs from Emin's forthcoming storytelling EP to be released this Summer.
"I started a business relationship with Carla Carter," states Emin. "However, now I can call her one of my good friends from the United States. I look forward to creating more with her and Druski."
"Behind the Curtain" will be available on all digital platforms May 18th including Spotify, Apple Music and Tidal. The music video will be released following the audio release on all music television platforms nationally and internationally including VEVO, MTV, VH1 and Revolt to name a few. The stage is set and Emin is ready to step into the light of his musical calling.