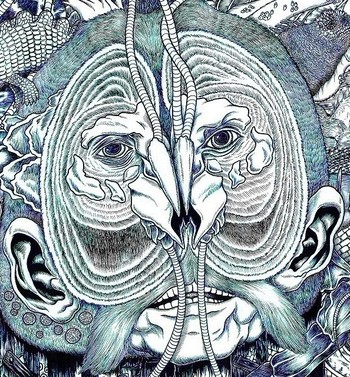 BUNNIES is co-fronted by Jeremy Dubs and Jack Science, the possessors of unforgettably eerie voices and true originals on the Western Massachusetts rock scene. Those familiar with the Northampton underground rock will recognize Dubs and Science from Speak!, Severe Severe, Rabbit Rabbit, and their collaborations with R. Stevie Moore; that was Dubs singing the chorus on the Pixies's "Bagboy", too. With BUNNIES, the dynamic duo of Dubs and Science have helmed some of the most deliciously psychedelic projects ever to come from the Pioneer Valley, including the Roger Miller-produced Music For Dinosaurs By Dinosaurs and the proggy Devoted To The Process Of Action. These albums are dark voyages, and the upcoming Transportation To Mind Transformation promises to be the band's boldest, deepest journey into inner-space yet.
https://www.facebook.com/BUNNIESareaband/
Earlier this year, the wildly artful duo Opertura (the collaboration between artists and animators Aya Yamasaki and Jason Brown) created an animated video for "The Problem With Link Think." After this delightful sublime clip, BUNNIES are back with another equally weird, equally entrancing clip for "The Trouble With Unchain Brain." This one was directed by Mount Emult, and though it's a short one (at just over a minute and a half long), there's plenty to dive in to. "The Trouble With Unchain Brain" shows an open mind, a person's insides, and the vast reaches of outer space, all done in scrapbook, collage-style imagery. Once again, BUNNIES are here to help you explore your own mind and the farthest stretches of the universe with a mesmerizing clip!