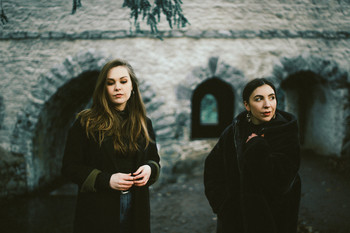 Saint Sister, the distinctive duo from the North of Ireland, showcase a marked departure on new track Twin Peaks, the first single off their forthcoming record "Shape of Silence" due later this year. Trading the sombre delibracy of 2016's "Tin Man" (Via Communions Single's club) and the subtle sweeping expanses of last year's "Causing Trouble", here we find the group exploring a more direct approach to their songwriting. Pushing themselves away from their comfort zone has resulted in a single distinct from their earlier harp based Irish folk. "I think, for our first album we've pushed past the edges of our sonic extremes" confirms MacIntyre, revealing an exciting teaser of the album to come.
Recorded once again with longtime co-producer Alex Ryan (Hozier) the track was mixed by Ruadhri Cushnan (Ed Sheeran, Mumford & Sons) a pairing which perfectly elevates the dreamy interplay of MacIntyre & Doherty's vocals. The celtic harp, synonymous with their sound, is still present and sits comfortably within a soundscape of ethereal backing vocals and glistening Wurlizter. Distant snares and muted toms tease throughout, eventually bursting into a colourful drop as the chorus soars. "We found a really good energy between the three of us, and over the course of time have started trusting each other's instincts a lot more and getting comfortable pushing the boundaries" explains Doherty of the recording process with Alex Ryan.
Twin Peaks is a song deeply steeped in denial but entirely blissful. The lyrics are laced with an underlying juxtaposition between blind optimism and desperation. "It's an instinctive reaction towards a friend who was going through a difficult time. What I wanted to say was, 'let's just do all the things we enjoy, let's block out the rest of the world, let it just be us for the next while and don't worry, we don't have to think about anything that will upset you.' It's a desperate act but also one born out of a lot of love and good intention" – says MacIntyre.