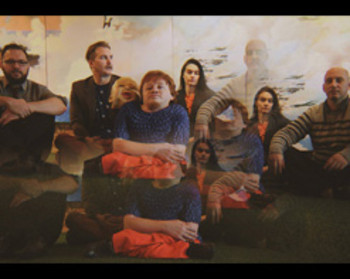 Every transcendent psychedelic rock song deserves a sublime video – a video that amplifies the delicious weirdness of the music. Not every psych act is lucky enough to get a clip like that. But BUNNIES, a wonderfully zonked experimental band from Northampton, Massachusetts, has certain built-in advantages. Their drummer is Matthew Newman, aka Mount Emult, a director who has shot wigged-out clips for Pixies, Panda Bear (of Animal Collective), Dying Fetus, Dance Gavin Dance and other adventurous pop acts – and his presence in the fold means that they've got a pretty good idea about how to present their visions in vivid color. More saliently, the music that the band makes is so rich and hypnotic that it practically conjures hallucinations on its own. What director wouldn't want to affix visuals (in this case the wildly artful Opertura) to a song as mesmerizing as "The Problem With Link Think"?
https://bunniesareaband.wordpress.com/
BUNNIES is co-fronted by Jeremy Dubs and Jack Science, the possessors of unforgettably eerie voices and true originals on the Western Massachusetts rock scene. Those familiar with the Northampton underground rock will recognize Dubs and Science from Speak!, Severe Severe, Rabbit Rabbit and their collaborations with R. Stevie Moore; that was Dubs singing the chorus on the Pixies's "Bagboy", too. With BUNNIES, the dynamic duo of Dubs and Science have helmed some of the most deliciously psychedelic projects ever to come from the Pioneer Valley, including the Roger Miller-produced Music For Dinosaurs By Dinosaurs and the proggy Devoted To The Process Of Action. These albums are dark voyages, and the upcoming Transportation To Mind Transformation promises to be the band's boldest, deepest journey into inner-space yet. "The Problem With Link Think", a two-minute paint-swirl of guitars, synthesizers, and otherworldly voices, is a pretty good indication of where Bunnies is going: directly into your strangest dreams.