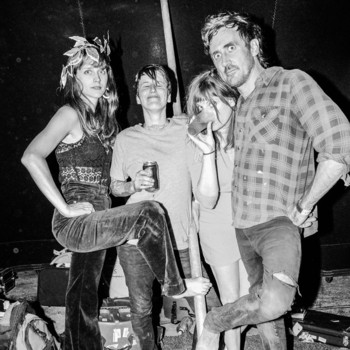 A malevolent chuckle opens 'Rubber Bullies', whose formidable lyrics encircle the unifying themes of A Laughing Death in Meatspace, which seem more prescient as each day's news of data breaches and betrayals unfolds: "The world's way too connected / and all anybody does is fight". From the fluoro glare of a supermarket aisle to the favelas of Rio de Janeiro, Gareth Liddiard paints a grim picture of our burgeoning anxieties: "You better hold on / the whole world's gonna pass you by… you know the end is nigh".
The clip for 'Rubber Bullies' was Filmed By Chris Mathews of Defero Productions in the exclusive surrounds of Nagambie Speedway.
'Rubber Bullies' is a crushing finale from Tropical F*ck Storm, the closing track on their forthcoming debut album A Laughing Death in Meatspace and the last in a series of four 7″ singles, each backed with a B-side cover of "songs we love and wish we had written"; in this case, the Bee Gee's classic, 'Stayin Alive', maniacally re-imagined for the disco apocalypse with the ferocious lead vocals of Erica Dunn. Once again the cover art is by Montréal's best, Joe Becker.