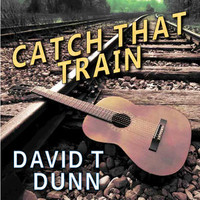 David T. Dunn's release, Catch That Train, is a straightforward singer/songwriter effort. These six songs never attempt to do anything fancy. You won't hear unusual instrumentation or unexpected time signatures. Instead, Dunn gives us a six-song set of solid songwriting.
The title track is like the troubadour's siren song. Dunn isn't sure where 'that train is going,' but he knows he needs to catch it. At one point he says he's casting out all fear, with Biblical certainty. He also mentions his multiple jobs, kids and a wife. The latter is an obvious reference to Merle Haggard's "Workingman Blues." Also, like Haggard, Dunn has a kind of love affair with trains. In fact, Haggard as a youth would jump freight trains just to get away.
With "Whispering Angel," Dunn trades his artistic inspirer for a romantic mystic. Over a loping country groove, Dunn sings about a lovely, loving woman he believes is whispering his name. With "Until the Next Time," Dunn gives us a lyric about the hopeless romantic. "I'm never gonna fall in love/Until the next time," he confesses. Doesn't it seem that whenever our heart is broken, we tell ourselves (and everybody within earshot) that we'll never fall in love again? In fact, Dionne Warwick had a whole song dedicated to this stubborn proposition. But then again, once that whispering angel begins calling our name again, we fall like a house of cards. It's human nature.
"Hey Hey Marcella" changes the project's tone significantly. It's an upbeat, almost rockabilly love song. Its lyric is like a cousin to Buddy Holly's "Peggy Sue." In this case, Marcella's gotten married, or so the protagonist has heard. "You ain't coming back to our town," Dunn sings with regret. She's the one that got away, and he knows it. She could have been his. Even though he sings out "Hey, hey Marcella," he knows she won't ever answer him; she won't ever come back to his town.
"No Rain No More Today" is a bluesy song, which sounds like a Johnny Cash tune. Dunn sings much of it with a low, Johnny Cash-like voice. He finds himself alone in bed, when he looks out his window and spies a black cloud. But just like his calls out to distant Marcella, there's nothing Dunn can do about modifying the weather. He can tell the sky he doesn't need black clouds or thunder, but the sky's gonna do what it's gonna do. And isn't that always the way of the blues? Nobody wants the blues. Nevertheless, everybody knows what the blues feel like. It's just not our choice to make.
"Let Me Free My Mind" closes the project with a thumping rocker. This one doesn't sound as country as the other tracks. Additionally, it features a horn part, which gives it a slightly jazzy feel. Lyrically, this one's like "No Rain No More Today," in that Dunn is begging to free his mind. However, circumstances are conspiring against him and he's just not able to shake himself free.
What you learn from these diverse songs is David T Dunn's train is going in many promising directions, which is more than reason enough to catch his train.
https://star1ent.com/david-t-dunn/audio
-Dan MacIntosh