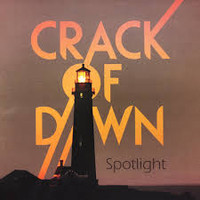 Canada has been known for giving the world everyone from Anne Murray, Brian Adams, Justin Beiber and Drake;however, there is a group that may not have been as well known as the above names but around longer than Beiber and Drake, they are called "Crack Of Dawn" The group was originally signed to Columbia Records in 1975 as the first black band to be signed by a major record company in Canada. That statistic may not seem like a big thing to many; however, with a very small Black community in the 70's, Canada was not in the forefront of producing a plethora of R&B recording artists in those days.
The group came out with hits such as It's Alright, Keep the Faith , and the dance/R&B groove "Boobie Ruby" and now after a 40 year slight hiatus they are back with a very cool song titled " Your Love" In communicating with one of their media people they said to me, "you need to hear this right away…it's a must listen" , I was curious and the sudden push to grasp the attention of my ears , which then had me placing my headphones on and listening to "Your Love".
I was not only impressed but happy for this group that has proven to stand the test of time. "Your Love" is a wonderful blend of pop, R&B and Soul, it is music for the masses and can give you a "feel good" feeling. "Crack Of Dawn back in the day could be compared to Kool & The Gang, or the American sensation LTD, but today they sound like some seasoned musicians who've taken the time to keep the "Smooth Jazz/Soul" demographic entertained and romancing in the song that is quick to become quite infectious.
I was also given a very strong quote from legendary and award winning producer Preston Glass in regards to the single "Your Love" Glass says " "'Smooth & Silky' — that's one way I'd describe Crack Of Dawn's recording of "Your Love" …and speaking of love, I love nice melodies like this — and when you top it off with the luscious tonalities of their vocals, then you've got a delicious cocktail that hits the spot"!
I would tend to agree with Mr. Glass, you can believe me or you can check out these guys and have a listen to them . I hope we'll hear more of "Crack Of Dawn" and their latest album " Spotlight" …give these guys north of our border a listen.
https://crackofdawnband.com/music
Douglas Wilson