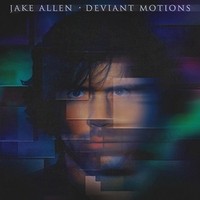 So much fuss surrounds Michigan's Jake Allen's guitar work, and rightfully deserving. But, don't forget the guy can sing and write songs that carry the listener into far and wide spaces. His lush orchestrations and layered music beds are much more New Order and Nine Inch Nails than Nugent; his alt-pop tunes are much more mellow than Kid Rock and Jack White. With 14 tracks on Deviant Motions, Allen has the arsenal to stretch his musicianship and lyrics to create a new state of mind.
Deviant Motions is Allen's third album effort – a follow-up to 2011's Etherica. Allen released his debut Sleep in 2009. It's nice to revisit Allen – Etherica proved his chops and unique pallet. It was also jazzier. Deviant Motions shows his maturity and soiree to another ethereal – sounding baseboard. Many of the songs on Deviat Motion have this synthesizer vibe, meshed nicely with his finger-plucking guitar work. The results are wickedly melodic rock and roll.
URL: http://www.jakeallenmusic.com/
"The Picture" has robust synthesizer work, but that certainly doesn't mean Allen's voice gets the backseat. His suave delivery reminds me somewhat of Benjamin Gibbard from Death Cab For Cutie.
Track two, "Bridges" has a long instrumental opening. Allen's vocals take their time …the build up and anticipation is just perfect. There's a frailty to his voice – it's fey, but certainly masculine. The, uh, musical bridge in "Bridges" is interesting. The guitar work stretches before and after – as if it were the flag in the middle of a rope on a game of tug-o-war. The guitar emits short, gasps, then it seems to rev up and cross an imaginary line.
There's an athemic climb in this song – Allen's emotion in his voice strikes a deep chord. Holy smokes! This song has a howl at the moon effect. It's a freeing, drive down the highway blaring in car sound.
"Scorpio" is a fun, light, airy pop song. This song is a must be heard track. If Jason Mraz can make it big, then certainly Allen is next in line with this keeper.
"If You Fall Apart," reminds me of Coldplay before Coldplay sold its soul to the devil, only less focused on pounding the keys. It's got a bit of the Goo Goo Dolls in in the recipe, too.
"The End of Us" doesn't bombard, as do most of Allen's tracks, with the chorus. I really appreciated that as a listener. Even though I love a great pop song (let's be honest Falco's "Rock Me Amadeus" doesn't exactly have award-winning lyrics, but it's a great song.)
After a few listens, "Imprismd" turned out to be my favorite song. I don't think I would have said that compared to "Bridges" and "Scorpio" but in the end, it won out. Fans of Paul Carrack will dig this track. It's not too pop rock, but it's quirky enough to be stuck in your head for hours and hours.
"A Dream," "Troubadorial," "Drowning In A Shallow Paradigm," "A Dream That Lingers" and "Detour" are all so-so. These weren't standouts to me, but still great additions to any musical library. "Dust & Spider Webs" (with the line "something in this house isn't right") is a nice filler. "Lascivious" is a bit of a throwback to Etherica, as its jazzier guitar work shines. And, the last track "Still" completes a generous amount of music.
Overall, Allen shows prowess and hits a homerun with his third album. There are a lot of tracks – especially when most listeners are used to singles these days, but he definitely brings his A-game to each selection.
PURCHASE LINK: http://radi.al/FT8nKzC
Amy Smith