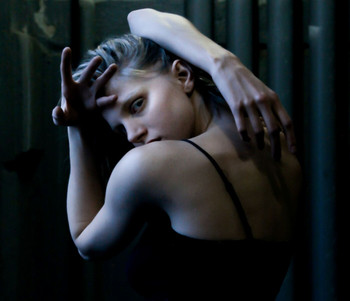 Brooklyn's Elke (née Kayla Graninger) has premiered the music video for her debut single "Without the I," off her upcoming EP Bad Metaphors out May 4th on Kobalt. The fiery Bérénice Eveno-directed video complements the blistering track, as Graninger takes the viewer through sunkissed meadows, moonlit woodlands, and gruesome road trips before it all goes up in flames. Kayla calls the track "an exploration of memories and moments that I needed to make sense of." Speaking of the video, she adds, "We filmed it at Rhys' house upstate that his dad built and planted all the trees there in '69. It was an excuse to be in a magical place with my friends."
The Bad Metaphors EP produced by Shawn Everett (The War on Drugs, Alabama Shakes) consists of three rebellious break-up anthems inspired by past relationships. With an urgency reminiscent of The White Stripes and PJ Harvey, you'd never guess that Elke (pronounced "el-key") first started her musical journey wanting to be a pop star. Raised on a mix of Top 40, classic rock and doo-wop, Kayla hung out in some different alleys, from synth-heavy pop to country to shoegaze, before she started singing louder, finding her distinct tone and, eventually, the confidence to match.
Raised in different cities and small towns around the United States, Graninger dropped out of boarding school and moved to New York in her late teens, where she signed to a modeling agency, failed at that, and then hung around until Elke arranged itself around her.
Credit: Bérénice Eveno