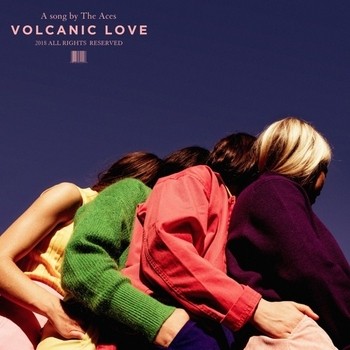 After spending 2017 on the road with a sold out headline show at The Mercury Lounge and sharing the stage with the likes of Joywave and Portugal. The Man in addition to their single, "Stuck" landing them a Top 40 spot on Alternative Radio charts, a feature as Billboard's Chart Breaker artist and a Billboard 2018 Artist To Watch, its safe to say that Utah quartet The Aces are quickly becoming a hot topic. Their lush new single, "Volcanic Love" sends fans into Summertime bliss with their 80's inspired guitar lines and lavish melodies erupting from the core.
"Volcanic Love" is the band's very own timeless love story. It's music video, Co-directed by Nico Poalillo and drummer Alisa Ramirez pays homage to some of the world's most iconic love stories like The Great Gatsby, 500 Days of Summer, Heathers, Across The Universe, and Comet, while also giving fans a taste of The Aces' world. The theme of "Volcanic Love" focuses on romances that, due to their toxic nature, burn with passion as universal resistance only fuels them more.
"Volcanic Love" comes as the the title track to The Aces' highly anticipated debut album, When My Heart Felt Volcanic due for release April 6th. Their previous release, I Don't Like Being Honest EP was released June 2017 and instantly turned heads in the press world. The band was named an Artist To Watch by Earmilk, Idolator and Paper Mag since the release. They were also a featured artist in the Youth Issue for Paper Mag, Nylon, Band Crush, and a Weekly Discovery Artist for American Songwriter, a Drop Artist for Refinery29 and were deemed a Rising Style Influencer from The Hollywood Reporter. Not to mention they were given the thumbs up by the likes of NPR, Noisey and FADER.