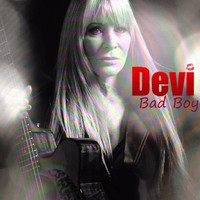 Devi goes for a stripped-down dance floor darkness with the intense "Bad Boy". At times the intensity of the electro sound recalls Crystal Castles at their most intimate. By opting for such a style Devi's vocals gain a tremendous power to them that allows them to move forward at an incredible speed. Infectious to its very core, the way that the rhythms power through and the beats hit hard adds to the physicality of the entire piece. Incorporating only a select few elements, the minimalism works to Devi's favor, as her voice shines through with such great care.
Not much time is wasted while the piece builds itself up. The synthesizers rush into the mix with the utmost of urgency. Upon the beat dropping the skeletal groove allows other elements to come into the mix, further adding to the hypnotic trance of the work. Nearly psychedelic, the cyclical looping style works wonders. Her voice expresses a wide range, from lust to yearning and more coming into the mix. By keeping things to the essentials, the sound gains a clear-eyed perspective. For the latter third of the song Devi lets everything else drop out, flirting with ambient for a mere moment. Towards the last stretch the beat becomes strong, all-powerful as the song goes for a wild swinging rhythm before everything simply drifts off.
With "Bad Boy" Devi sings straight from the heart, offering up a sound that feels so rich, vibrant, and real.
By Vince Sterand