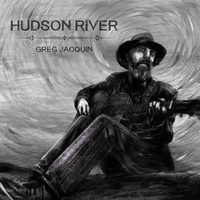 Greg Jacquin's baroque folk of "Hudson River" simply stuns with its lovely arrangements. Over the course of "Hudson River" Greg Jacquin sings straight from the heart, proving to be an exceptional storyteller. Exploring elements of relationships, of looking back on one's experiences, elements of nostalgia and yearning permeate the pieces. A wide variety of influences comes into the mix: from indie rock to country to 60s pop, all of it is woven together in a masterful sort of style. By far the true soul comes from Greg Jacquin's vocals, which always seem to strike the right balance between beauty and blunt honesty.
Stream/Buy:
https://gregjacquin.bandcamp.com/album/hudson-river
Things open up with tremendous spirit on the ever-growing "The Station" which comes into focus with an uncanny grace. One of the highlights of the collection, "Floating" offers up a string section that at times recalls the chamber pop of Lambchop's stately body of work. A western twang comes into the mix on the ramshackle rhythms of "Scratches & Bridges". By far the best track on the collection comes from the dreamy dazed atmosphere of "Hopeless Entrance" where Greg Jacquin strips the sound down to the essentials, allowing the guitar to simply float off into the heavens. Neatly ending the entirety of the collection is the radio edit of "Floating".
"Hudson River" proves Greg Jacquin to be a tremendous master of his careful, with a keen ear for melody and an ability to weave an intersecting series of stories into a satisfying whole.
https://www.facebook.com/gregjacquinmusic1/
By Brian Mains