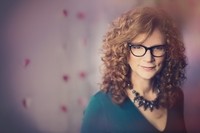 The new twelve song release from Becky Buller and her band, Crepe Paper Heart, is the second release from this renowned fiddle player and follows up the 2014 release 'Tween Earth and Sky with a resounding successor. The same mix of secular and spiritually themed originals powering her first collection continues with this release and Buller has employed both a bevy of talented guests and her talented road band in order to bring this collection to life. Guests like Rob Ickes, Rhoda Vincent, and The Fairfield Four bring their talents to bear on the collection while Buller has worked with some talented co-writers to stock the album with a plethora of first class tunes that use tradition as a vehicle for expressing herself in a highly individualistic, yet recognizably traditional, way. The production has a high quality that further brings these songs to life without ever drawing too much attention to itself.
There's no question Becky Buller, both as a songwriter and musician, adheres to a number of traditional bluegrass and country music tropes, but she never treats the style like a butterfly trapped under glass. The lack of being too reverential means these songs sound modern despite the time-tested nature of the style. "Another Love Gone Wrong" definitely doesn't remake the songwriting wheel, but it's wholly her own rather than sounding like some sort of loving pastiche. Her co-write with Lynda Dawson, "John D. Champion", strongly recalls traditional material without ever seeming like some musical museum piece brought to life and Buller delivers a vocal full of energy and emotive phrasing. The languid pacing for "Heart of the House" gives Buller a chance to show off her vocal talents in a distinctly different context and the melancholy running through the song makes it an even more affecting listening experience. There's a strong hint of the blues, naturally, running through the track as well.
"Cair Paravel" has a more pastoral air than the early tracks and centers on Buller's fiddle playing without it ever coming at the expense of the other instruments. The instrumental allows the other musicians a chance to shine, as well. Another relatively brief number, "She Loved Sunflowers", comes at you as an easy going amble with lyrics that are a character study. Despite that, however, Buller never belabors those qualities and there's a strong balance between the song's elements accentuated by the backing vocals joining Buller along the way. The breakneck bluegrass of "Calamity Jane" has a strong chorus and a rambunctious air that never bites off more than it can chew. Buller always hits choruses in a very satisfying way and that predilection continues with this track. The album's "final" number and bonus track "Phoenix Arise" has some beautiful lyrics and Buller seizes upon the lyric with affecting commitment. Crepe Paper Heart has something for every lover of bluegrass, Americana, and country music while maintaining a diversity of approaches and sound quite unlike else you hear from the genre today.
FACEBOOK: https://www.facebook.com/becky.buller.3/
Shannon Cowden