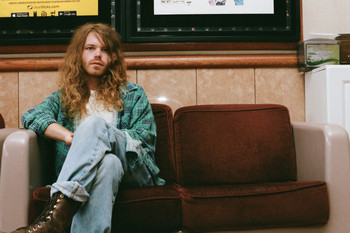 "Rock N Roll" is the new single from Welles, the Arkansas-based project of 23-year-old singer, and multi-talented musician, Jesse Wells.
"It's an apathetic sigh- a realization that the system's broke, the dream's a nightmare," Jesse Welles says of the track. "When you realize that after the war all you have left is culture. So go ahead – cover me in blood. You might as well, there's plenty to go around in the hands and closets of politicians."
Following the critically acclaimed debut 'Codeine EP', which received support from Nylon, Consequence of Sound and Paste in the US, to name a few, Welles is gearing up to release his debut album "Red Trees and White Trashes", out June 15th on 300 Entertainment.
The first thing you notice as a listener is Jesse's voice. At once totally unique and jarringly emotive, it demonstrates that Jesse understands that the best singers wield their instrument with stealth. Being able to unleash as much emotion from a quiet murmur as a wild howl is intrinsic to Welles' output. He'll tell you that he responds most profoundly to "road-weary" singers like David Bowie, John Lennon, and early Bob Dylan. He recalls drawing instant inspiration from Kurt Cobain when first hearing Nirvana's "Lithium" in middle school "I heard this American just barely getting through the lyrics and I was like 'OK. This is cool. I can do this.'