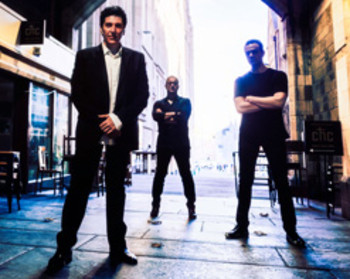 Upon listening to Melbourne, Australia's jacobs run, it is apparent that the band is prepping for success. With just three singles, this power-trio have found the yellow brick road where originality and accessibility meet, keeping us hooked on a debut record that wields the type of poise and personality that is normally reserved for alt-rock icons. The music video for "Sleepwalking" is a cinematic journey that sets the bar for things to come.
jacobs run is made up of Melbourne scene veterans, Michael Jacobs, Fabian Bucci, and Peter Curigliano. Having played in bands together while navigating the scene down under has led the group to crafting a self-assured polished sound that flaunts their mastery in songwriting and orchestration. And yes- I mean orchestration in a literal sense- classical strings swell in and around the distorted guitars and clamoring drums, steering them away from being your average rock band. The band, in their own words, sets out to create music for people who believe in the power of a rock n roll band to be uplifting, intelligent, and mean something substantial.
"Sleepwalking" is the perfect showing of jacobs run's message as a band. The video opens up with breathtaking underwater images as frontman, Jacobs tells the story of a man stuck in his head, overthinking conversations with a lost lover. The entrancing video, shot by Scott Kingman, alternates between trippy images of a deep cerebral dream and Jacobs' daily struggle of ruminating on his thoughts. The foot-stomping beat and catchy melodies led by the band's classical influence keep the listener wanting to spin this track on repeat and the colorful video serves as the perfect visual aid for the experience.