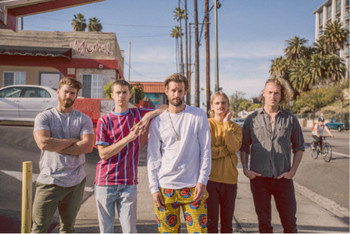 The Rubens have announced their third album, LO LA RU – a bold and confident record that effortlessly picks up from where their worldwide hit single 'Hoops' left off. The album is out Friday June 29th and is available to pre-order now.
To coincide with the announcement, the group are incredibly excited to release the powerful new single, premiered via triple j's DRIVE program, titled 'Never Ever' featuring Sarah Aarons – a relatable and heart wrenching tale with Sam Margin and Sarah's voices acting as yin and yang, so different, but so perfectly matched and harmonious within the track.
When Elliott and Sam Margin got an email letting them know that ARIA Award winning, Grammy Award nominated songwriter Sarah Aarons was going to be in Sydney for the holidays, was a fan of theirs and was keen to write a song with them, the guys thought "why not". At that point, they were on their way to Brooklyn to put the finishing touches on their highly anticipated third album.
Photo Credit: Ali Lander