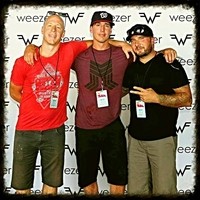 DC based Sirens knows how to get things off to an excellent start. The single begins things a little unexpectedly. The beat, bass and vocals are the sole musical force throughout the track and they have a quick pacing that doesn't promise to be very gripping at first, but slowly exerts a greater and greater hold over the listener's imagination as the song moves forward. Sirens which consist of 3 core members; vocalist Jake Barnhart who also plays guitar. Steve Kinzer on keyboards and synth and Josh Barnhart plays the drum and SPDX.
URL: www.SirensMG.com
Sirens cover a number of stylistic bases quite fluidly and confidently while also incorporating an artful amount of ambient sound that strengthens the dramatic qualities inherent to their songwriting prowess. All band members are talented collaborators, as well, and deepen the feel of this song. Sirens sound is best described as a sonic pop alternative rock hybrid of sorts with an emphasis on melody and top notch vocals. The balance between the care taken with the singles musical arrangement and lyrical context is expertly handled and, as a result, few singles in recent memory emerging as fully rounded as I Believe.
I Believe is a distinctly artful number with a light alternative rock quirky edge that builds its effects on listeners over time. There's a discernible path the song takes listeners can easily follow. The three talents get a lot of credit from me for crafting a memorable chorus.  There's a slightly dissonant edge to guitar solo, at least I think its guitar or it could be the keys. Sirens have proven their mettle as a modern pop-rock band, but their collaborative talents will no doubt continue to develop exponentially into the future. I almost want to hear more material to gauge this song by. Speaking of collaborations I like he keyboard and thick drum-bass groove which makes an important contribution. The crescendo or vocal melody closes the deal as all 3 members most notable turns in tandem with the lead singer Jake Barnhart. There's little question these guys know how to build a song, but also how to tweak audience's expectations.
To many "I Believe" in some ways may come across as a quintessential feel good pop song, but there's a number of understated flourishes in the song that pepper it with unusual flavor. The harmonious ending being the primary thing that stocks out in my mind as something special  that separate this band from the rest of the field. Everyone makes the vital final contribution to "I Believe." The harmony ending put an explanation point on the song, giving "I Believe" the kind of close it richly deserves. Sirens is a pop rock staple capable of a great things in the future. They've certainly set the bar with this new release – and to th8ink it's just the beginning.
FACEBOOK: https://www.facebook.com/sirensmg/
Allison Mallory