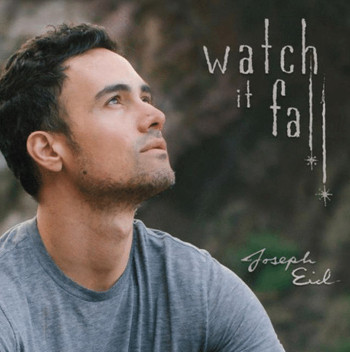 Joseph Eid, is one of the many pop artists, who not only takes a genre like pop, by combines it with other likely genres that many would be wary of hearing together. His pop folk style started off upon his album "Human", released back in 2013. That album contained "It's Only Love", that is apparently in a Universal Studios film starring Sharon Stone, called "All I Wish."
In 2017 he would go on to release a follow-up release titled "Watch It Fall" to come in to shape of an EP.  This 6 track masterpiece is what we are focused on now with tracks such as "Starting Over", "Diary", "Let Me In" and of course the standout single "Watch It Fall" which you can enjoy the video below.
https://store.cdbaby.com/cd/josepheid5
The way of how "Watch It Fall", plays out, is merely simple. The track tells the story of a life, lived as a spectator, an existence that's been filled with perception, among other things like insight, empathy, and sadness. The song being told from the perspective of someone who has lived in the same building for years on end. Something that was never intended to happen. But with living in a place for so long, there comes a feeling of profound connections with a shared history behind it all. In short, with hardships those become the strengths of it all. It just comes full circle really. That being what "Watch It Fall", is about, lyrically and concept wise.
Now as far as the content of the music is concerned, that is already briefly spoken of, which is pop folk. That may not be likable to many, but to some, it is fair game. Given a sometime though, Joseph Eid's style grows on you. The track is set to not being plugged in and all toned out with the angst of electronics, but settled down but still being plugged in, but toned down. The melodies and harmonics of the track is set to an acoustic drift of motion of emotion. The light use of guitar strings, makes the melody marry yet joyful.
It is how Joseph works his craft of music creativity. His style of blending together a style brings out a similarity flare to that of Jason Mraz or even Gary Jules. Both of those artists, being much lot how Joseph was at his beginning's as an artist. Their style were a lot like his own, being very upbeat and grounded, yet still lots of fun to listen in on. Surely how "Watch It Fall", was meant to sound.
That is how Joseph Eid's way with his variation of the pop folk genre combination works. He can build from something that not a lot would enjoy, but after hearing it, take part in it for all it has to offer. His vocalization being fine tuned with instrumentation being just as crafty and cunning too. It's just how it all worked out, and will continue to do so, for many more years to come most likely.
This being not the end of Joseph Eid's work, this being just the continuation of where, what, why, and how, he plans to take his music, moving forward. Making more releases, to keep the music on the level. It's the way he would want it to go, because music makes a move, with its methods of creation.
FACEBOOK: https://www.facebook.com/JosephEidMusic/
Rachel Tavares