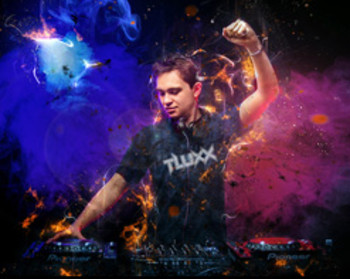 Los Angeles-based EDM artist TLUXX is a major player in the up and coming wave of next-generation superstars. TLUXX has made a name for himself as a promising new DJ at the moment, and he's raising the bar with not one, but two new club hits. "7th Angel" and "Round and Round ft, Alina Renae " showcase TLUXX's inventive orchestration and knack for infectious grooves while paying homage to the heart-warming story of how music saved his life.
http://www.facebook.com/ONETLUXX/
The story of TLUXX begins with a boy named Brian living just outside of Albuquerque, New Mexico. As a kid just entering high school, Brian had a dream of becoming a professional baseball player. With talent, experience, and his whole life ahead of him, it seemed like nothing could get in his way. Then the unexpected happened. Brian endured a major health scare, calling for serious surgery. The surgery took such a toll on Brian that he was diagnosed with PTSD, causing frequent panic attacks and anxiety to the point that his mind began to eat away at his every day life. His dreams of MLB stardom were gone. In the darkest corner of this abyss, he discovered the power of electronic music. He hunkered down in the basement for hours on end as his mind was constantly blown by the songs, producers, and community involved in the EDM scene. Upon realizing music was his coping mechanism, a newly inspired Brian decided to self-medicate. He downloaded six free 2-week trials of Ableton Live on his computer under different emails before his mother finally gave in and bought him his first recording software; thus, TLUXX was born.
Once he got started, TLUXX rose like a phoenix from the ashes, going from basement demos to the west coast club scene in the blink of an eye. His single, "Round And Round ft Alina Renae" was released at the end of the summer, and it was just in time to catch that last wave of the sunshine vibes. Featuring the beautiful dancer emulating a sunflower whisping in the wind, the video brings us in circles… Literally. The viewer follows the main character on a merry-go-round creating an undeniably positive energy. EDM producer/singer, Alina Renae features as the lead vocal on the track and brings the song from a fist pumping beat to an all-out Summer anthem.