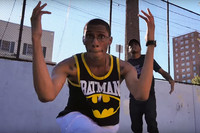 The brother-duo of Conceptz has a number of release, conventional and otherwise, in their growing discography and their latest single "Fall" qualifies as their most potent release yet. They've definitely paid their dues in the hip hop world and worked their way up from obscure novices to rubbing creative elbows with some of the genre's brightest talents while laying the groundwork for their own work. The success of their earlier release "Roll It Up" definitely associated them with a particular scene, but they never feel hidebound to following it faithfully and show more dexterity than typical acts of this ilk. The single features the rhyming skills of Cassidy WIZ and the sum of this collaboration proves to be greater than its already fine individual parts. Ten video appearances on MTV, praise from countless quarters, and a growing fanbase marks Conceptz as an act on the rise and "Fall" will only accelerate that ascent.
The song initially opens with a light synthesizer touch before segueing into the main body of the track. The vocals play off quite well with one another and the flow finds its own footing rather than attempting to merely imitate the backing track in some way. The beats are particularly suited to the lyrical content, however, and their strongly percussive quality creates a kind of counterpoint any fans of hardcore hip hop. The song runs a little over three minutes long and it's an ideal length for this song and will leaves fans of the style wanting for more. Many instances of this genre keep the musical arrangements pared down to their essential elements and Conceptz are no exception – the focus here is on the performer(s) and, while there is an obvious focus on nailing the right rhythms for this song, the primary thing is serving as an excellent vehicle for the vocals. The music accomplishes this with room to spare.
The lyrics are definitely rather profane in the unedited version, but it's nothing you haven't heard from similar acts before Conceptz and definitely has the ring of authentic speech. There's no pretending to be anything they aren't and the songwriting and personalities behind it alike wear that, rightfully so, as a badge of honor. The phrasing is spot on throughout for conveying the storytelling aspects of the song and striking the right attitude without it ever sounding hollow or self indulgent. Conceptz's "Fall" is one of the more vital new releases you'll hear from the hip hop genre in 2018 and has unabashed personality that's impossible to ignore. The obvious passion for the music underlining their personal history and audible in their music, coupled with extraordinary talents, ensure that this brother duo will be a major part of the scene for years to come. Even casual fans will be taken with this recording, in my estimation, though some may prefer the "clean" edit coinciding with the song's release.
MIX TAPE KINGS: https://www.mixtapekings.com/2018/03/02/conceptz-ft-cassidy-fall/
William Elgin