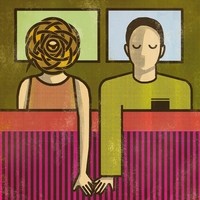 Madam West began its artistic life as a synth pop duo but has since evolved into a quintet who blends soul, folk, pop, and alternative rock influences into an appealing, substantive mix. The project has aimed to bring a wholly different, highly stylized sound to bear since its genesis in a Bushwick basement and the six song collection Warm Bodies is the current culmination of that journey. It marks a new chapter for the band after a successful 2017 involving Madam West's first national tour and praise from a plethora of important outlets like NextNorthWest, IMPOSE, Bearded (UK), and Tiny Mix Tapes.
BANDCAMP: https://madamwest.bandcamp.com/track/warm-bodies
The band's material and style has garnered them important festival slots alongside talented contemporaries like Zola Jesus and they've opened for other talented peers like Grammy winner Anna Wise. They are distinguished by all around instrumental excellence, but their engagement with the modern world as songwriters and front woman Sophie Chernin's singing will definitely earn the group some well deserved attention.
The tastefully handled EP cover depicting a man and woman in bed together but hesitant to touch is a near perfect invocation of some dominant themes on Warm Bodies, but not nearly all of them. The songwriting for tracks like "Strongest Son" deftly handle other adult questions and concerns with the same keen insights we hear later and benefit from a note-perfect vocal interpreter with Sophie Chernin. Her vocals have a decidedly more dream-like sound on the EP's title track and she does a clearer job of integrating herself into the sound of the release while "Erstwhile Manatee" shows off the group's instrumental prowess without ever being self-indulgent and gives the synthesizers and keyboards a chance to lead the way they seldom receive in the band's performances. The rhythm section work here, especially the drumming, is an all important part of the song's success.
The EP's fourth song "Seams" perhaps tries to do a little too much within the space given, but it has a biting theatrical sound that we don't hear from the earlier efforts while the drumming continue to retain an authoritative thwack to its sound.
"L" is the EP's closest thing to an elegiac ballad and there's no question it deserves mention as one of Chernin's best singing performances on either this release or the band's first album. This penultimate cut proves to be a near perfect pairing with the last song on Warm Bodies, "Wise Blood", its title cribbed from a famous Flannery O'Connor novel. There's certainly some outstanding writing in this song, courtesy of Chernin, and her musical partners rise to the challenge of the moment and fill the EP's longest song with even more of the sparkling musical imagination we heard from earlier songs. Madam West are experiencing increasing success for one very good reason – they are that damn good. Warm Bodies will likely propel them into a whole new realm of notice and the songwriting excellence of this release exemplifies why they are rapidly being considered one of the best groups of their type working today.
Jason Hillenburg