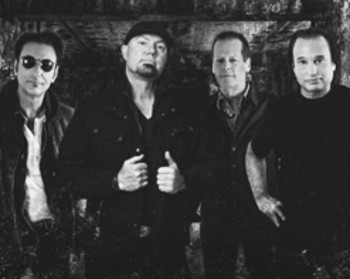 The Outfit, hailing from the streets of Chicago, IL, is made up of brothers Mark and Matt Nawara, Mike Gorman, and Phoenix, Arizona's Andy Mitchell. Their straight up, toe curling, face melting Rock n' Roll sound is sure to get the blood pumping through your veins and kick your adrenaline levels into overdrive. The band's newest single entitled, "Soldier Boy" employs the quintessential Outfit sound with catchy hooks and aggressive instrumentals, while unabashedly commenting on our world completing torn asunder. This band rocks, but simultaneously speaks to the current zeitgeist gripping our nation.
This quartet is truly a super-group made in Windy City heaven. Mark, a drummer, and Matt, a guitarist, (The Nawara Brothers) have banded together once again after playing in the Chicago club scene for years, learning the ins & outs of the scene and writing and recording tons of compelling original music. Mike Gorman is a bassist who has been in legendary Chicago bands such as Pezband and Off Broadway, garnering high-level experience before joining the dynamic duo. Rounding out the lineup is singer/songwriter Andy Mitchell, known for his incredible work in bands such as Dish, Verona, and 9 Volt.
Partnering with Pavement Entertainment, The Outfit are gearing up to release their self titled debut album. After sharing the track "Wire" earlier this year, the band is feeding the inferno with a music video to accompany their new single, "Soldier Boy." This song features a filthy guitar tone by Matt Nawara rocking all around his brother's blistering, hard hitting blasts. The fat tones are built on a wall of crunchy, revved up bass from Gorman. Over the landscape of lip-biting Rock n' Roll is the masterful delivery of the "Soldier Boy" story by an endlessly dynamic and tuneful Andy Mitchell, putting the cherry on top of this rock-solid sonic tsunami. The lyrics and visual content added by the video ties the bow on the band's message and strikes a collective nerve with actual footage of U.S. military at war fighting the evil doers and no-goodniks looking to do us harm.