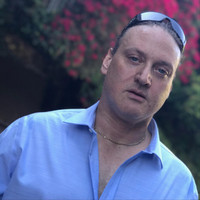 Nick Lamb's playful pop confection of "Gettin' High Off You" embraces a raw, garage rock sort of style. Volume rules supreme for the whole piece has a freewheeling, careening sense of power. The vocals have a commanding presence to them while instrumentally the track goes for a visceral sound. Attention to detail means that the drums have a wild, unhinged quality to them infused with a tremendous amount of emotion. Guitars opt for a jagged edge for they burn through the track length with a gleeful abandon. By far the thing that ties all of this together is Nick Lamb's lyricism, for the piece feels so vital and full of passion.
Things start off almost immediately, kicking off on a driving rhythm. Vocals rise above it all, pledging a level of honesty and devotion. From there the song grows and builds. Multiple layers of sound come together in a kaleidoscope of color. Lyrics continually grow ever more intricate as they describe the levels of care and compassion. By far what truly brings this message home are the incredible guitar solos peppered throughout the piece. Gradually letting this tension grow, by the time Nick Lamb truly lets them loose it feels particularly earned, like a grand celebration. Indeed, much of the track has an optimistic air to it while it goes for a true embrace of what it means to be madly in love.
"Gettin' High Off You" shows off Nick Lamb's uncanny ability to craft an infectious joyful ode to what love can be.