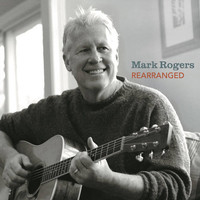 Unfurling like a story about a favorite friend, Mark Rogers makes "Rearranged" teem with life and goodwill. Americana, country, rock come together ever so effortlessly anchored by a poppy sensibility. Mark Rogers proves to be a deft storyteller for these pieces offer snapshots of a life lived to the absolute fullest. Over the course of the collection Mark Roger chooses such a joyous way to be, presenting passionate vocals alongside rollicking rhythms. Guitar work has a dexterity to it, while it displays an uncanny ability to craft warm inviting hooks aplenty. Mark Rogers creates a sound so vibrant that it feels like an instant classic, with a timeless tasteful quality.
https://markrogers1.bandcamp.com/album/rearranged
Things begin on a distinctly Americana note with the sprawling ambition of "Right Here". From the hit of the drums to the deeply resonant vocals, Mark Rogers crafts a perfect sort of reminiscence, a dream of the past. Akin to a long-lost Jon Brion track, the smart sly sound of "Slow Parade" makes it the collection highlight. Never overdoing it, the loveliness of the song feels undeniable. Yearning comes to the forefront of the track, as the piece positively radiates warmth. Going for a more bombastic approach is the rush of "I Can't Say Why". Showing off a jazzier take on his sound is the lilting lounge work of "Takes Me Back Again". Perfectly bringing the whole collection to a close is the shimmering beauty of "The Blue of December".
https://itunes.apple.com/us/album/rearranged-ep/id1204538617
Mark Rogers goes for a glistening gorgeous sound on the pitch perfection of "Rearranged".