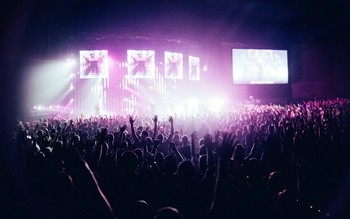 They say opposites attract, but when it comes to the world of dating, you need to have some stuff in common. Music is one of those things, as every time you hear a song, it's no fun having to argue with your partner about whether it's good or not. What's more, music is a good date theme, but if you don't have the same music taste, you risk spending the whole night debating what to do, and then never going anywhere. Not the best way to have a relationship, especially if it's a new one and at the dating stage. 
The question is how do you ensure that your other half shares the same music preferences as you? If your first meeting is face-to-face, then clearly asking them is the answer. However, as online dating is becoming more popular through sites such as Badoo, you should make sure you check their profile to see if music tastes are in there, and if not, don't be afraid to chat to them about it. Once you've discovered someone with the same style as you, you can go on dates with a music theme. Here are some ideas no matter what kind of music you are into.
Jazz nights
Blues should certainly not describe the state of your relationship, but blues and jazz music are a different matter. Heading down to your local jazz bar or café can offer a relaxed dating experience, with smooth saxophones and piano helping to release any first date nerves.
Something a little calmer
While a bit of mellow jazz is relaxing, you still might want to listen to something calmer on a night out with your loved one. Acoustic sessions often have minimal instruments, maybe just a piano or acoustic guitar, providing a much gentler musical experience. Nights like these could also widen your music preferences, with up and coming artists performing their own music or doing covers of well-known tracks.
Rock on
If you and your date are full-on music fans, jumping at the chance to hear live music in an exhilarating atmosphere, why not explore the festival scene and make a trip out of your music love? The USA knows how to put on some killer concerts with some of the biggest names in music as headlining acts. Imagine camping out under the stars in a tent or RV, with the best music on your doorstep. Romantic and musical.
Broadway
Speaking of which, a theater date going to see one of Broadway's top musicals is another date night option. Everyone no doubt has at least one guilty pleasure musical that gets them singing. Combine a Broadway show, or elsewhere for touring musicals, with dinner and you have yourselves a lovely evening.
Stay at home
In the early stages of dating, going out somewhere to see some live music can be good, especially if there are any awkward silences during the first date. However, when you have reached the stage of being a more domestic couple, a date night at home can be just as fun. Bring out the karaoke and have some fun from the comfort of your home.
To round off, music does in fact play an impact in your dating life. Nevertheless, once you have found the one, you can enjoy music-themed dates no matter what your taste.