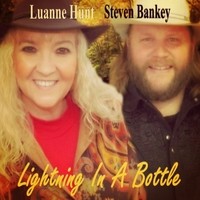 Luanne Hunt & Steven Bankey taps into a homespun country charm with the passionate "Lightning In A Bottle". Sung with the utmost of honesty a great soothing quality washes over it all. The lyrics focus upon trying to resist temptation, for that temptation brings a quick fix, not a satisfying feeling. Applying multiple layers of sound gives it a folksy charm, from the lovely twang of the guitar to the fiery sound of the fiddle. Piano's gorgeous flourishes further add to the reassuring, soothing aura. By far the heart and soul of the sound comes from the incredible vocals, that recall the tale of falling from grace and coming back to it again. With this cautionary tale, Luanne Hunt & Steven Bankey sing straight from the heart.
The story begins quite quickly, coming into view alongside the gorgeous guitar work. Lyrics describe the loss that comes with relying upon that which is always transitory. Multiple layers of sound work in unison to create a wonderful stream of consciousness sort of temperament, one that engages in a tremendous amount of group play. Allowing for just the right amount of space, everything feels so soothing and majestic. Luanne Hunt & Steven Bankey sings from a perspective of having lived it, of talking about the way of finding one's true self. For the latter half of the piece Luanne Hunt & Steven Bankey emphasizes rising above it all.
On "Lightning In A Bottle" Luanne Hunt & Steven Bankey creates a compelling tale, one with a message that resonate long after the song is over.