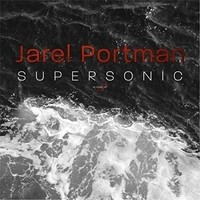 Singer/songwriter Jarel Portman is out with his album, Supersonic, a collection of timeless alternative rock songs that serve to remind you of songs from the 80's and yet sound incredibly refreshing. A brilliant blend of the old and new, with a spectacular band backing Portman. The musicians who helped bring Supersonic to life include Scott Patton (guitar), Tim Smith (vocals), Matt Hurst (bass), and Travis McNabb (drums). Together, the five of them make a stellar sound that I can't get enough of.
"Supersonic" is the titular track on the album. As the first song, it sets the tone for the remainder of the album and it does so very well. It has such a nostalgic quality to it that I knew right away that I was going to enjoy this work. It's a touch repetitive, but Portman has such a nice voice that I couldn't find it in me to be annoyed. I love the bass and guitar in this track a lot; they give the song most of the flair it has.
"Acetylene" is my favorite song on Supersonic. It's a little slower and has a focus on Portman's voice- he has the ability to really show off his vocal prowess and I was sold by the time the chorus comes along. The compound of the same name is used as a fuel and building block for more complex chemicals. So, unlike in the song, it isn't going to heal any wounds. It's a cool word, though, and I appreciate thinking about the song in the vein of what acetylene really is. This is one of the more modern sounding songs on the album, and it certainly holds its own in comparison. The lyrics are simple but very pretty, with a little bit of sadness that goes along well with the slower sound of the music.
"Make It OK" is a funky, cool track that I can't get enough of. It really sounds like it came out of the 80's, but made a quick stop at the 90's for a little bit of edge. I feel like the protagonist in an anti-establishment sci-fi movie. It's like one of those songs you'd hear while watching a montage of someone infiltrating a shady government building, or something like that. The lyrics even match that scenario perfectly. I could definitely see myself putting this on a writing inspiration playlist and getting some killer ideas from it. I absolutely love how Portman sounds in this track.
"Running" has such a wicked retrowave sound to it. Make it a little lo-fi and it would be perfect. This is another song that I could see in a movie- what's better for a chase scene than a song that tells you to run and even gives you a crash course in how to run? I love how the theme in many of the songs seems to be from an underdog perspective, it really fits in with the sound that Portman cultivated.
Supersonic is a versatile album that was brilliantly put together. It is a perfect song for anyone who enjoys alternative rock, 80's synthpop, or anything in between. Jarel Portman really outdid himself with this album.
http://www.facebook.com/JarelPortmanMusic
Tori Patterson