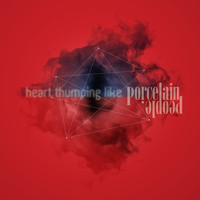 Porcelain People created an unusual blend of musical saga with Heart Thumping Like from the album Shapes. Listen and Enjoy!
In this era when fusion music is gaining popularity among the masses, many innovative musicians are evolving with their ingenious talent of blending musical notes of various genres that could pave the path of creating music for the upcoming musicians. Porcelain People is a band formed by the amazingly talented duo, Fred Kalil and Josh Thornhill who have achieved immediate stardom with their debut released album Streetlight.
Born and brought up in Monroe, LA, Kalil, and Thornhill teamed up to combine the tunes of electronic and pop and reproduce a wild yet variant melody that bears a strong addictive nature to allure its audience. With the newly released track 'Heart Thumping Like' the duo opens up the gates of versatility in their passion and composes music that has a distinguished mixture of soulful harmony.
The song Heart Thumping Like starts over a distinct prelude with a single-stranded note and a tuneful collection of background vocals. The prelude has a strict up beating part which grips the audience to feel the strong mystic ambiance. The background association of the song takes a frequent upbeat as the lyric traverses through the emotional swing. Just like their earlier compositions this song too bears the electro-pop percussion strand and deep synthesizer combination that prevails the rhythmic gesture of the track and roots the interesting melodies into the mind of the listener.
With strong provoking lyrics the duo again succeeds to light the fire of enthusiasm and energy on the stage along with the engaging instrumental back score. Porcelain People has a unique gesture to venture into listener's heart and prick the little corners that always needed a little movement and boost. With the song playing in the background, it is difficult for any listener to sit quiet and calm without feeling the excitement to groove or shake a leg with the beat. The song has a rhythm right from the very first note till the music fades in the end which keeps playing in the mind even after the song has ended long back. Having handled the recording and production personally, the musical duo has surely worked hard to keep the quality of the music high and intact throughout. Not much work has been done to engrave digital effect which maintains the originality and uniqueness of the soulful number.
'Close your eyes and just breath' marks the beginning of the chorus which eventually leads the song to the whirlwind of stories it weaves. The pulsating drums section is another interesting mention of the song. The beats have a classic synchronization with the background vocals which keeps the song interesting and fun to listen to. With changing verses and amplified sound quality the song takes many leaps before it can fade out in the mystic ambiance of emotional versatility.
With snappy snares and a cutting beat, Heart Thumping Like ensures to get the audience members moving. Consolidating electronic, pop, funk, and hip-jump components and in addition Porcelain People's novel flavor, Heart Thumping Like has certainly earned the privilege to be the opening track to Porcelain People's new collection, "Shapes"
http://www.porcelainpeoplemusic.com/
– Lisa Parker