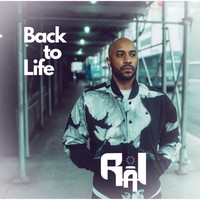 RĀI's new single "Back to Life" marks a breakout moment for this young South Carolina based vocalist and songwriter. Despite the strong presence of Southern gospel in his musical pedigree, RĀI's efforts here are in a much more distinctly R&B vein with focused attention paid to the groove and how best to integrate his vocal into the musical surroundings. It, likewise, benefits from a thoroughly modern production job that spotlight his smooth vocal style while investing the backing track in a warm cloud that accentuates its luxurious qualities. His songwriting is intent on mining life's experiences for ultimately positive lessons and this cut is no exception as its thirst for redemption will win over all but the most cynical of listeners. "Back to Life" underlines what anyone who's already familiar with RĀI knows – this is among the most transformative talents to emerge in a R&B/soul vein in recent memory.
The light and brief keyboard introduction segues into a steady pattern of percussion and RĀI slides into the song with its evocative opening lines. You can definitely hear the presence of gospel influences coming across in the way he delivers the lyrics; there's almost a reverential air in the way he approaches the song's subject matter and scenario. He does a truly exemplary job of tailoring his voice to the arrangement in the sense that he knows when to expand and contract his vocal presence as well as further enhancing the dynamic potential of the backing track. It's a masterful display of control. His vocal brims over with confidence, as well, and unwinds the melodic strengths in a patient, immensely artful way. RĀI is clearly the star of the show, but he sings like a bandleader rather than a solo vocal talent latching onto the arrangement merely as a vehicle for his singing.
The lyrics will surprise some, but they shouldn't really. Good outcomes are bound to result when a singer/songwriter approaches his craft with the seriousness RĀI puts into his work. Despite that devotion to making his music a vehicle of real meaning, there's nothing about the way he comes to his music that's heavy handed – instead, we enter his world through his vulnerability and the courage he exhibits inspires our own. The incredibly generous vocal treatment gets to the heart of the song's experience without straining to make an impact and even the hardest of hearts can't help but be affected by his singing. "Back to Life" is one of the best singles so far in a young 2018, but I can say with a relative amount of confidence that it will likely end the year rated just as high. RĀI is a formidable talent who produces songs capable of appealing to both longtime devotees of the genre and casual listeners as well. It's some of the best R&B and soul you'll hear from the modern music world.
https://www.instagram.com/raimusicworld/