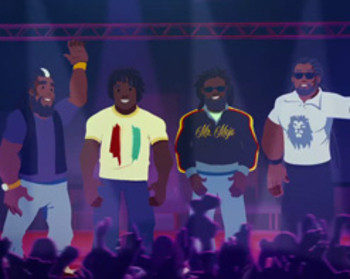 The Royal Family of Reggae: that's what they're called, and it's no idle boast. The members of Morgan Heritage were born into one of reggae's most heralded clans — they're children of the great Denroy Morgan, a pioneer of the style, and a musician who helped define the parameters of reggae for audiences on both sides of the Tropic of Cancer. When Denroy helped introduce North America to reggae at its best and purest in the late '70s and early '80s, he became an international legend. Now, his kids are creating legends of their own.
The Morgans have been carrying on the family business for the past two decades, redefining reggae for modern audiences while staying true to the style and the spirit of the movement that animates it. Since the group's foundation in 1994, they've cut eleven albums of high-quality reggae and spread their distinctive sound across the globe. They've been rewarded for their hard work, too: Strictly Roots, the group's 2015 set, won the Grammy Award for Best Reggae Album of the Year.
http://www.facebook.com/MorganHeritage/
That album was a traditionalist's dream: a demonstration of mastery from true champions of the form. Avrakedabra, the freewheeling follow-up dubbed "history in the making," by Huffington Post, is an engagement with modern styles, and proof positive that reggae legends have plenty to say to the contemporary pop audience. Morgan Heritage has always incorporated elements of electronic music and hip-hop into their music; on Avrakedabra, the group vaults into the mainstream without abandoning any of its principles or diluting its sound. "Reggae Night," the celebratory lead single, would work equally well on a Top 40 radio playlist or blasting out of the speakers of a beach bar. It's an occasion for the members of Morgan Heritage to exhibit their world-shaking talents: sweet singing, irresistible melodies, and an incomparable relationship to rhythm.