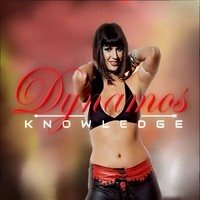 The five piece Dynamos, based out of Los Angeles, made considerable waves with their last single "Shake, Rattle, and Roll" and continue to impress with their latest "Knowledge". Lead singer/songwriter Nadia E.'s childhood musical education in opera and a lifetime passion for performance definitely influence her unique talents for the rock form and her band mates continue to complement her skills at an extraordinarily high level on the band's new song. It is quite a stretch to call Dynamos "indie" at this point as it implies, for some, that they boast some DIY sound and serve up a sound appealing to fringe music devotees. It isn't the case at all. Dynamos, instead, score high with this new single thanks to its polished, lively production, the top shelf musicianship, and a well-conceived and fully integrated approach to songwriting and performance that's recognizable, yet creative and individual to them.
Bassist Nick Schaadt opens "Knowledge" with some cracking bass soon paired up with Ian Nakazawa's drums. The band brings a two guitar attack to the table and guitarists Carlos Barrera and Jacob Mayeda do a artful, atmospheric job of blending their distinctive styles into a seamless and coherent whole throughout the track. They are players with clear talents, a penchant for using effects in a discerning way, and share an obvious desire to serve the song first and foremost. The pacing for "Knowledge" is decidedly uptempo, but tempered enough to avoid any "off to the races" quality – despite the relatively boisterous posture of their songs, nuance is something clearly important to these musicians and they incorporate it into the song with surehanded skill. There's more than a little blues influence announcing itself with the song, but Dynamos possess a distinctly modern edge thanks to the first class sound and mixing that's went into realizing the song's potential.
Nadia E's talents are manifold. She's a deft writer who understands what these songs need from a lyrical perspective and manages to make substantive statements without ever overstepping their mandate. Her mesmerizing vocals, obviously, elevate them more. She definitely has the tone and snap of a passionate, first class blues belter, but it's a technically superb voice as well with the same full-blooded vitality we hear from the band. There's never any point, thankfully, when this song comes off as a glorified solo vehicle highlighting her singing. Instead, Nadia sings like she's a member of the band, tailoring her voice to maximize the musical impact, and the results are impressive. There's nothing about this song that fails to impress. Even the running time, a little over three minutes, renders this performance into the musical equivalent of a clenched fist – there's no wasted motion, everything is tight and lined up to leave anyone reeling. Dynamos are rising fast and it's obvious why. The new single "Knowledge" reaffirms and expands on the promise they demonstrated with "Shake, Rattle, and Roll" and will undoubtedly win them a bevy of new admirers.
William Elgin