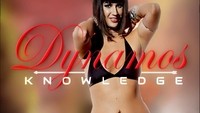 Dynamos unleashes a powerhouse of energy with their latest released track Knowledge. Listen and Enjoy!
The new generation music has gone through many critical retrospective paths before people could start accepting and appreciating the new style of creative music. Thus, many talented musicians have taken longer time and effort to establish their position firmly in the spotlight of the musical world.
Dynamos is one such group of passionate musicians who have accomplished this goal through intense hard work and musical passion. Based in Los Angeles this American rock musical group comprises of vibrant talents like Nadia, the leading singer, Nick Schaadt, the music director, Jacob Mayeda, the bassist, Ian Nakazawa, the drummer and Carlos Barrera the guitarist. With this team of innovative artistry, they have created many famous tracks that have amused the audience for years with their exceptional rock tunes and inspiring lyrics.
Produced and co-directed by Elliott Lawrence, Dynamos released a new song this year named, 'Knowledge' that has already impressed the masses and attracted a huge fan following. Beautifully sung by the talented Nadia, this track bears the power to capture the listener's mind within an instant. With immense technical knowledge in Opera tunes from the very childhood, Nadia has powerful and expressive vocals that can transform a dull gloomy ambiance into an energy-rich pulsating stage. With 'Knowledge' she also brings out her hidden skill of irresistible stage performance.
Similar to their debut song, Cold Comfort, this new single is based on impressive lyrics and well-synchronized instrumental association. The theme of the song is pretty original showcasing the variation of thoughts and impression in everyone's life. It talks about the little misconception people draw about others from the minimal knowledge of things they know about them. But what one forgets is the things that people are unaware of the another person. The song pricks at the deeply hidden secrets of people and their tendency to keep them hidden forever. With Nadia's impulsive vocals and breathtaking performance, the song reaches few high notches within the first few moments of its beginning.
A melodious fusion of rock and jazz tunes this song has a natural instinct to captivate its listener to a mushy storytelling and enticing its listener to fantasize about the song. Nadia has a unique narrative style of singing that brings more strength and confidence into the single.
The track showcases that feelings of love and compassion should never be taken for granted. Just like the beautifully crafted chorus, 'there is a lot you don't know about me' is the particular niche that ignites a burning flame along with Nadia's intense moves on the stage.
The song is also accompanied by a video which plays brings the mesmerizing performance by Nadia and her brilliant team members. Nadia is surely a shining star when it comes to performing and with this visual treat, she takes every opportunity to showcase her immense confidence and knack over musical intricacies.
'Knowledge' is a brilliant composition by Dynamos that has the power to keep its audience intrigued and interested throughout the song. The perfect ambiance tuned with impressive guitar chords and passionate narrative, the track is a perfect melodious gem which is sure to sparkle in the music industry for many years to come.
– Jessica Thompson