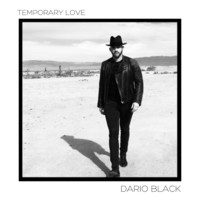 Dario Black's "Temporary Love EP" is sonic sensuality. With a deep passion guiding the entire collection, everything comes together in a most perfect way. Pop anchors the entirety, as Dario Black incorporates R&B, EDM, and even a little bit of soul into the mix. Teeming with life, the lyrics focus upon a spirit of togetherness. Colors swirl about with a tremendous kind of majesty letting everything work wonders with crisp percussion, physical bass, and soothing melodies. Never overdoing anything, the elegant minimalism that comes to define it all feels so gorgeous.
Starting off the collection just right is the physicality of "All I Wanna Do". Featuring a tremendous buildup, everything feels just right. Easily the highlight of the collection Dario Black's vocals has a cool tenderness. Celebratory to its very core energy pours out of the nimble "Sigue Palpitando". The synthesizer flourishes further add to the piece as everything neatly comes together featuring such a fine driving rhythm. Increasing the intensity, the powerful "Don't Let Go" embraces a deep bass-heavy groove as Dario Black sings about the difficulty of losing oneself in a relationship. Intimate to its very core "All Night Long" takes a reflective approach. A little bit of a summery heart emerges from the neon-hued vibes of "Don't Let Go (Tropical Mix)". Careful melodies rush forward resulting in something that so positively vital.
On "Temporary Love EP" Dario Black goes for a lovely, leisurely take, one with a focus on relationships whose message lingers.