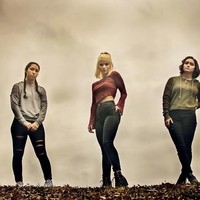 Mixed by respected professional Beau Burchell, the single "Yachats" from Texas bred alternative rock three piece Tough on Fridays couples a warm, nearly effervescent musical approach to the style with every bit of the sharp teeth you'd expect the song to brandish at key points. It runs a little longer than, perhaps, many listeners will anticipate, but never feels like a cut overstaying its welcome thanks to straight forward and intensely focused playing from the three young musicians rounding out the band's lineup. Katie Cummins and Caleigh Oceguera are the band's original nucleus and longtime friends who, in hooking up with drummer Gina Osmar, found the final spark to set their musical ambitions aflame. Their earlier singles "Retrospect" and "Little Italy" definitely made many music fans sit up and take notice, but "Yachats" will further impress anyone looking for more and points the way towards a brilliant future for Tough on Fridays.
FACEBOOK: https://www.facebook.com/toughonfridays/
The streamlined guitar lines of the song's first half are paired well with a vocal that's equal parts emotions and spunk. There's a lot of energy bubbling under the surface of "Yachats" from the first and they wisely let it simmer for sometime before bringing the song to a full on boil. When the guitars take over and shift the song into another gear, Osmar's drumming follows suit and lays down a more authoritative groove than before while Cummins' bass playing punctuates the song with a forceful drive and solid bottom end. There is a thorough command of compositional dynamics making the tune leap to even more vivid life and those dramatic turns, however few, add much to the overall song. Gina Osmar's work on the kit is one of the real highlights of the piece as she navigates the band through the assortment of transitions laid out in the arrangement without the tempo ever faltering a single time.
The vocals are robust without ever being too overtly commercial and possess plenty of wallop alongside their underrated capacity for emotion and melody. The melodies in "Yachats" are definitely simple, but nonetheless quite effective, and the vocal melody does much to strengthen some already fine lyrics for the form. Tough On Fridays mine some well worn territory in terms of subject matter, but "Yachats" makes it clear that they find ways to pour old wine into new bottles without ever erring outside of the style's conventions. The band's three members reveal their abundant chops without ever once taking some needless showcase moment and it's truly refreshing to hear how they play as a band rather than having to deal with ego issues and an unwillingness to serve the song. Tough on Friday's aren't like that at all – instead, they play with a confidence and artistry beyond their years while still invoking every bit of the style's needed energy. "Yachats" has a little something for every sort of guitar/alternative/punk rock fan.
Scott Wigley