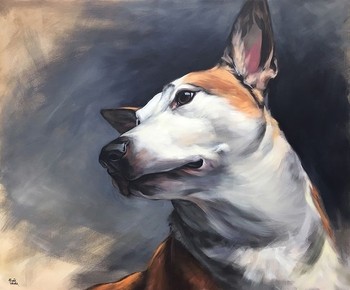 If you have ever owned a pet then you must understand their importance in our lives very well. Our pets are more than just animals; they become a part of our family in fact the most loved member of our families. Having a portrait of your pet and hanging it in between your family pictures is the best way to treasure their memories for all your life. People adopt various ways to treasure and represent their love for their pets and pet portraits are the trending one. The kind of compassion, love and care our pets show us make them very dear to our hearts and you must probably wish to immortalize them. Well! Hanging their portrait in your room can be one way to do so. It can be understood that you want the portrait of your dog as excellent as your pet itself and therefore we are here with the best option for you.
The Painted Paw are best service providers who are renowned to make the finest portraits that you can adore and cherish forever. They have excellent services and a variety of options that you can choose from. The best thing about the Painted Paw is that they allow you to customize your pet's portrait as per your wish. They are UK based but serve their services in various other places as well. The Painted Paw have an online business which makes it very convenient for the clients to hire their services from anywhere and anytime.
Apart from all this they also have a very friendly customer care and have a high value for them. They make sure their clients have full satisfaction and try their best until succeeded. With affordable rates and super quality the Pet Portraits can be said as the best in this field. To more about them and their services you can keep reading further.
How does the Pet Portraits work?
You might be curious to know the working process of the Pet Portraits. The ordering of portrait process is very simple and quick. You just have to look for their website and they can handle the whole transaction right from your order to the delivery of the portrait. Here are the three simple steps in which you can place your order:
Choose the style- once you have connected with the website you can choose the style in which you want to get your pet drawn. They give you various options right from pencil sketch to rainbow style and many others. Choose the style that you want and then click on the preferred option.
Upload the pictures and choose the size– you then have to upload the picture that you want portrayed and give them the size that you want. The Pet Portraits also provide their clients an advantage of getting as many pets portrayed as they like.
Make payment– once you have chosen the style and size of the portrait you can make payment by the payment mode that you wish for. The Pet Portraits have all the debit and credit card payments making it easier to get your piece of art.
Get your piece– you can choose the delivery time as per your requirement. In case you want the delivery fast, you can contact the customer care and get your wish fulfilled.
You might now know that the ordering processing is very easy. You just have to put an effort of a click and your piece of art will be with you. The Painted Paw have a very quick delivery service. However, the time of delivery depends on the distance of the place you live. If you live at a distance then you might get the delivery accordingly.
All that you want to know about the Painted Paw
There are a lot of advantages to hire the services of Painted Paw. They are affordable, have variety of designs, convenient payment methods and many more benefits. To know more about them and their services you can read all the below given points:
Shipping Charges
The portrait charges taken by the Painted Paw are the sole thing that you have to pay. There is no other or delivery charges that you have to pay if you are a resident of UK.
If you do not like the portrait
In case you do not like the portrait and want to get it changed then the team of Painted Paw will help you get it edited for free. They will send you a mail of the final portrait as you can have a look before it reaches you. In case you do not like it then you can get it edited and get the changes done. Your every feedback is valuable and you will get everything as per your wish.
Why to hire them?
You just cannot stop here unless you know the benefits and reasons of hiring the services of Painted Paw. The reasons given below will tell you why you must get a portrait of your kid done. It is affordable- the rates charged by Painted Paw are very affordable. You will definitely not get any other service provider with this kind of fine quality and price.
Best quality– the portraits are available in best quality. In case you are not satisfied with the quality you can contact the customer care and solve your problem very conveniently.
Free delivery– where all the other service providers charge a handsome amount to give your piece to you the Painted Paw provides delivery for free.
Fast service– because the Pet Portrait values their customer a great deal they have a very fast delivery and respond to the customers need urgently. You can place your order anywhere anytime you want.
The last and the best reason to hire the services of Painted Paw is that it is about your pet. You will surely not want to compromise anything when it comes to your beloved pet. Therefore to get the best memory of your pet getting its portrait for your room or as a gift is the best idea.