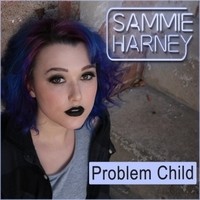 The title track from Nashville based Sammie Harney's debut release Problem Child has received a lyric video treatment and stylish presentation of imagery that nicely dovetails into Harney's songwriting. Harney is beginning her music career on the indie scene, but she definitely has material with the required writing acumen to propel her career into the mainstream arena. The song is co-produced by two former Grammy nominees, former Sixpence None the Richer guitarist Sean Michael Kelly, engineer/mixer Mark Niemiec along with producer Nathan Meckel. Harney may be only sixteen years old, but she approaches this song with an effective balance of youthful energy alongside astonishing maturity as both a singer and charismatic performer. "Problem Child" (co-written by Kelley and Tim Mathews) is a great title track and provides an excellent launching off point for its accompanying lyric video.
The song runs a little under three minutes in length and it proves to be an ideal running time for the track. Harney develops the song's lyrics in a visual way through the use of neon lit words moving past the listener's field of vision as the song progresses and it's an imaginative touch without ever seeming too garish. The transition from one imagery to another isn't carried off at the dizzying pace we often endure with other such videos and, in that respect, it shows obvious tailoring to the song itself. Harney's song has some appealing hints of rock power in the direct, assertive drumming providing a pulse for the song and the steady mid-tempo push it conjures from the first. The instruments and arrangement key in on supporting Harney's voice and lyrical content, but it never feels perfunctory – instead, it comes across as attentive to the song and singer's needs while still acquitting themselves quite memorably.
The lyrics are effective for a few reasons, but one of the critical reasons why they work is they are composed with the same lean economy distinguishing the music. Harney shows off some of the aforementioned maturity with the decisive, yet never overbearing, way she dispatches each of the song's lines and her relaxed, confident modulation into the song's chorus. She has a voice many will admire that has just a hint of smoky allure and that added dash of atmospherics brings an emotive edginess to the performance that enhances the song a great deal. It's a perfect marriage of music, lyrics, voice, and imagery for Sammie Harney's "Problem Child" and its video. Harney emerges from this viewing experience as, potentially, one of Nashville's most promising new talents whose music covers a number of bases without ever being beholden to any particular style. It, likewise, gives promise that the entirety of her Problem Child release is every bit as good, if not better, than this potent title cut. It's a compact, concise tune that never wastes the audience's time and has plenty of attitude and intelligence percolating through each of its three minutes.
I-TUNES: https://itunes.apple.com/us/album/problem-child-single/1346470673
William Elgin