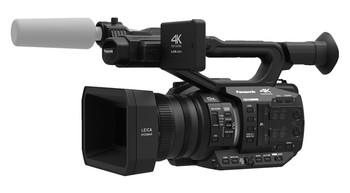 Your journey from being an amateur photographer to a professional one is not only based upon the caliber or skills that you portray but is largely inclined towards how smartly you choose your equipment. Today as the amazing technology and digitalized aspects are flourishing the world, 4k cameras have now become the priority of every pro shooter, photographer or videographer. Today, everyone is willing to take over the trend and cope up with eth momentum of building amazing portfolios and videos through their upgraded cameras. So, read further and explore much about the top 4k cameras that are about to boost up your shooting skills!
So what 4k cameras actually are?
Well, the term 4k, eventually evolved long time ago. Whether you go out to shop for a camera at outlet today, you will find the "4k" carved banners and posters all around! In simple terms 4k videos or cameras are the ones which depict a particular type of video specification. It stands for 4000 that get its name from 4000 pixels of width that footage shows. The best part of 4k quality is that, it is far clearer and detailed than any other video preview and shooting quality that ever evolved. The footage here is largely crisp and detailed which shows bright highlights of colors and gives a real life feel and appeal to the objects that have been shot on the 4k cameras.
Even when compared to the general '1080p' HD footage which was largely preferred earlier, the 4k quality satisfy all your expectations and previews that bet shot even at the largest screen without pixilation. It contains four times as many pixels that are in total and twice the pixels that you see in 1080p HD footage horizontally.
What benefits do you attain through shooting by 4k cameras?
Today you will find numerous associations made with the 4k cameras. However, you will most likely relate it to terms like UHD or ultra high definition which sets apart a new standard of viewing and shooting footages. This video quality has now poised to be one of the greatest benchmark both in the world of recording and previewing the videos or pictures. It brings bulk of benefits for the professionals, some of which include-
Advanced and real like footage- a lot of viewers today do not demand of the 4k amusement as they are actually not aware of its dimension. When you start shooting up with 4k, it will eventually make your HD videos look clearer and real like. Most of the HD cameras are bundled up with 1080p however, when you opt for 4k, you can easily downscale your footage from 4k to HD resolution, making it crisper and sharper. The color data can be easily graded, reduced noise and moiré is generally eliminated which makes you capture the videos with natural aesthetics.
Easy adjustments (zoom/pan/crop) – these are some effective editing techniques that aren't largely available in other cameras while shooting. In fact, when it comes to HD, you can't undertake these and can make the desirable change in your footage. But, with 4k cameras, all your concerns get vanished up. Whether you need to crop something, tighten up your frame, wish to pan or tilt the footage, you can do it all here. Here you can crop up to 4x on the 4k footage, while still maintaining the complete HD video resolution. Similarly, as you have got some uncountable pixels in here, you can easily zoom in, out and can pan across the whole image while keeping up with the great, clearer and attractive resolution.
Extracting images through videos– there are several opportunities in life when you were earlier asked to shoot a perfect video, but then the client's mind twists and he asks you to extract out some stills shots for the same. Now going back to the destination and getting proper stills isn't something possible! So what's next? Well, 4k footage will do the task! The shots taken on 4k cameras produce four times the overall resolution produced by HD videos. On one side where you can only generate out an image up to 2MP from your HD videos, here you can go beyond the limit. The images or still shots taken out from 4k resolution can easily be used online and for printing.
Image stabilization through 4k– the extra pixels that come with 4k is actually a boon for image stabilization here. There are various non linear editing software that contain the feature of stabilizing your footage during editing. They turn down the handhelds footage look just like a professional one shot through a steady camera. However, this process reduces the resolution of your picture ending up the amazing appeal and clearer viewing. But with 4k cameras, you have got many extra pixels through which you can crop, pan, rotate and change the resolution of your whole frame, still keeping the resolution high.
Chroma at its best- if you are a photographer or videographer, this point doesn't require any explanation! Shooting your subject placed against a green screen is what chroma is all about. It is a general technique that is used by individuals so as to add up digital footage at the back by removing the green screen or chroma. The process of chroma keying becomes much easier and spectacular when the shooting takes place through the help of professional 4k cameras. As you get lot of pixels to easily zoom in and cut out, you get the chance to change your source picture's background, with a new one without disturbing the visual appeal.
So, these were some of the most prolific benefits that come with shooting from 4k cameras. Well, these cameras might turn out to be an expensive but significant investment for you. If you are largely indulged in shoots and filing, then the 4k cameras are must for you. Today, there are numerous brands which are now coming up with such excusive cameras that produce real life footage. All you are supposed to do is, just find out your nearby outlet, or visit any online store, and get your camera home at affordable rates and great discounts!