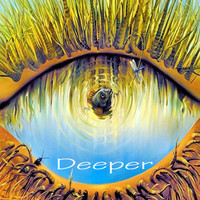 Kenny Fame dives Deeper into the ocean of passionate love with a soulful touch of musical expressions and presents a gem of an album to remember.
Kenny Fame is a multi-talented artist who has the ability to blend music with poetry and produce a mystic musical ambiance. With a unique baritone and interesting lyrics, Kenny has evolved through years of hardship and persistence as the brightest star in this musical world. A musical genius, Kenny crafts his melodies in an amalgamated of the various musical genre. His gripping performance has captivated many young hearts all over New York and sure to allure much more in future days.
The new song,' Deeper' released on 12th February, is another of the magical gems that showcase his ultimate potential as a singer, actor, lyricist, poet and an invariant performer. An Alumna of Cave Canem (Home For Black Poetry) he hooks numerous young musicians to his own aura of creativity and imagination.
Being a talented songwriter Kenny writes the lyrics of the song in simple words and relatable theme. The song 'Deeper' is an amazing composition that absorbs the notes of both Alternative and Indie Pop and fuses into a single tone of musical eloquence. Pairing up with Jack Muller, who also designed and played the background instruments, Kenny crafted this song under the guidance of Oscar Melendez of Sound Clash, NYC.
The lyrics of the song are heat-provoking which also has the power to intrigue the audience with its amazing charm. Based on the powerful theme of love and longing, this song encapsulates a tale of incomplete love and the powerful emotions that engulf the once loving soul into lonesome darkness. The background instrumental arrangement is kept pretty simple with manipulated chords which emphasize the overall theme of the song well.
With a light prelude over acoustic guitar section, Kenny's strong voice starts the song with 'As I look deeper into your eyes,' which later glides repeatedly as the melodious chorus of the track. Emphasizing his vocals on certain words, he evokes passion and feelings into each verse. Engineered by Craig Levy, Jack Mullin, Oscar Melendez, the song takes a gradual uphill with the next verses as it brings out the many vulnerable feelings in a relation. Kenny has written the lyrics with immense responsibility as it deals with some negative aspects of love, something one dislikes, like when someone's affection is taken for granted. The song is enjoyable to the core and keeps the listener hooked to this passionate musical moment.
Just like Kenny had built himself, the track is one of its kind which bears immense power and energy to allure young hearts into this mystic world of soulful melody. Produced by Kenny and Jack, the song is recorded with the utmost care to not compromise on its quality. Minimal digital effect on the song retains its originality and beauty.
Kenny is an artist and this song, 'Deeper' is a work of his amazing creative mind. Strongly based on inspiring lyrics, this song is a bold representation of the faults that reside in a loving relationship. With this track, Kenny evokes the tale of passion which blooms into this amusing craft of musical melody.
https://www.facebook.com/KennyFameOfficial/
—Maria Jones