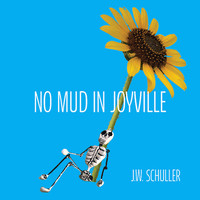 J.W. Schuller is a indie folk rock musician based out of Boulder, CO. He is out with a brand new album called No Mud in Joyville. It is a light and introspective collection of songs that are bursting at the seams with Schuller's heart and soul in each note and lyric. He is a jack of all trades in the music department, providing most of the instrumental work in this album, from guitar and keyboard to marimba and mouth tuba, with a number of other instruments in-between. He and his nephew, Jens Larsen, currently form a fantastic duo, with Larsen on drums and backing vocals.
No Mud in Joyville has so much character in each song, you feel like you're spending time with an old friend with each track. The soft folk rock sound and Schuller's smooth voice unlock a type of warm nostalgia that will bring you back to simpler days and a less complicated life. It is bittersweet at times but overall a heartwarming experience, one that will stick with you for some time. The lyrics in each track have so much sincerity to them that you almost feel closer to Schuller at the end of each song. His lyrics are beautiful and show utterly human his experiences are.
https://jwschuller.bandcamp.com/
The titular "No Mud in Joyville" is a fun and idealistic song that will have your feet tapping and head bobbing along with the music. Joyville sounds like a fantastic utopia that has everything you want and nothing you don't. I think we could all use a trip to Joyville. It's just a cute track that really showcases the optimism you can find in Schuller's music that is a refreshing change from a very exhausting ordinary existence. It's perfect for a smile and a look towards a better tomorrow. The examples used in the lyrics are fun and unexpected at times, so I'll keep my favorite parts a surprise for listeners. It's definitely a track worth paying attention to.
"Uncle Norm and the ash tree" is a slower song on the album and is by far the most serious. It shows a raw and personal side in Schuller's work that is important to note. The feeling of loss and the pain associated with it will leave you breathless. His voice shows every emotion clearly and the song as a whole, while having a different vibe from the remainder of the album, has a level of honesty that fits in perfectly.
No Mud in Joyville is a spectacular album, perfect for indie/folk rock fans anywhere. It has all the heart and charm you could hope for in a beautifully put together collection of tracks. J.W. Schuller has a unique sound that shines in its sincerity. I can't recommend No Mud in Joyville enough- if you like honest, back-to-your-roots music that'll send you on a journey of old memories and a hopeful look at the future, this is the album for you. I look forward to hearing more from Schuller in the future.
Victoria Patterson