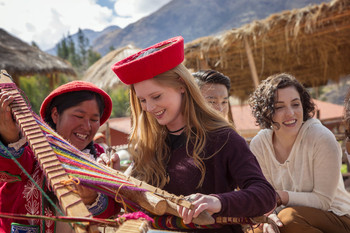 We all are looking for longer perspective for the life, revolving around education, a job and a system that was implemented by our ancestors. Basically, we are under the influences of other people, in childhood, it is told to get good grades then a perfect 9-5 job that gives you money for livelihood. We have been provided with this model and precisely not allowed to question on its rightfulness.  One of my recent trip to Morocco was an eye opening for me. I realized that holidays to morocco was not merely a break but a mindful activity.
People who are little reserve but hold stubbornness in their hearts are the trend setters. They don't allow someone to influence them with useless ideas. A journey to the land of colours and spices can be a life changer. It is possible that you are already going to the places but you'll never have this kind of encounter in life which is full of fun, life, solitary and adventure.  Hence, one can have everything that he/she needs to find themselves.
Why choose Morocco?
If you are looking for some real fun in life, then morocco is the country to choose for next trip. The life in Morocco is beyond the gadgets, although they are living in a modern era but their colourful traditions are quite overwhelming. Away from the routine life, all alone, you'll have wonderful landscapes to visit, hill top to enjoy the stunning view of city. Maze like medinas are presenting the artistic view of the city specially in Fes, Marrakech and Chefchaouen to wander around with family.
Atlas Mountains
Peaks of Mountains, the heights are love, hike to see stunning view of the city. Mountains are for the one who is curious enough to know the story of beyond. Snow-caped tops, they offer the best view of the city.
Souks
Shopping is said to be the therapy for women all around. No matter from where you belong, there is no chance of saying 'no' to the shopping. Souks in Morocco is the best place to collect some traditional items. You'll find spectacular art pieces to bring back. Rugs, handicrafts and many other things will provide enough of Morocco.
Medinas
Narrow streets can sometimes open your mind. Although they feel like a maze, yet one can find it mesmerizing. Walls are presenting the culture and mosques out there have a marvellous architectural designs to admire.  Wandering in medinas, just stay aware of stalkers, they are often ready to attack as they find you alone. Staying alert or travelling with some local is the only option to be safe there. If you have a tourist's guide along then it is perfect.
Museums
Museums are the places to relive history. Morocco's history is full of invasions; they were occupied by many authorities in the past. Learn that how they manage to get an independence and started life by enforcing their own laws, rules and regulations. Now, they do present contemporary culture, adopting new trends and technologies but it seems that they'll never let go their roots, which quite good for any country.
Sahara Desert
Night camping around the sandy desert is the main attraction of Sahara. Morocco gives a chance to the tourists and they travel along to witness the silence of it. Mornings are beautiful while nights can be fabulous too.
Beaches
Sitting in your cubical (workspace), you might have planned to retire in the age of 60 and enjoy drinks while relaxing at the beach. Well, no one can assure you 60 years of your age, so why wait till then. Enjoy your desired time now on the beaches of Morocco. Authorities have managed these coasts quite well; people now enjoy their private time without any disturbance.
Indeed, morocco is a country of charm, one of the best African country that leads life completely to another level. It's not that they are not into technology and comfortable gadgets, they are also having their own business centres, competing the world in business, IT and every other field. But the best part is that they are still holding to their culture, which makes them stand out of the other developing countries. The purpose of taking holidays to Morocco should be solely for your own self. Take only you along and turn on the bulb of your life. Let it enlighten your entire personality. Other than living a life that is influenced by other, step out for your dignity.
Decide your journey, live your dream, chase the goals that you have set, visit the places that are in your bucket list. After all, it's you that matters at the end, climb those fears you're carrying on your shoulders and never resist the change in life.
Author Bio:
I am Maria, a travel blogger from UK. Writing is my ultimate passion and nowadays, I am into the mission of providing creative and unique blogs on Morocco's lively culture and traditions. I can help people in planning their journey by sharing my amazing experience to Morocco.