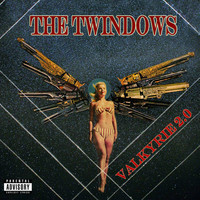 The Twindows go for a raw visceral rush of punk attitude with the potent "Valkyrie 2.0". Full of an intense energy they recall the wild unhinged spirit of Bikini Kill while they rush through at incredible speeds. Riffs have an infectious quality to them, featuring a youthful rebellious spirit. Nothing stays still for long as the Twindows make sure to flirt with chaos, as they careen uncontrollably. Best of all are the commanding vocals that help to frame the rest of the chaos, as they are delivered with an intense sense of urgency. Nor do the Twindows ever let up in their aural assault on the sense. Layer upon layer of sound works in unison as the tracks work together to create an unstable atmosphere.
Setting the tone for the album is the social media obsessed anthem of "Like My Music". The ambition of "Forgiven" brings elements of grunge into the mix with multiple layers of sound working in unison to create something that has a party-like atmosphere to it, opting for a little bit of playfulness. With "Dig Tree" the Twindows strip things down going for a lighter, brighter style. Brutal with its wall of sound fervor the fiery "Pulp" has an apocalyptic quality to it. Hypnotic to its very core "Sleepycore" serves as the highlight of the album, with a dreamy demeanor adding to its emotional impact. Perfectly bringing everything to a close is the eerie "Wire Mother".
https://www.facebook.com/thetwindowsmusic/
With "Valkyrie 2.0" the Twindows create a colossal sea of sound, one washes over the listener with great dollops of distortion and disorientation.