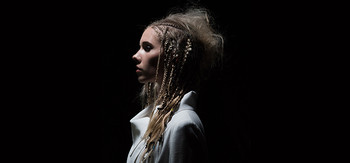 Melbourne based artist Woodes returns in 2018 with yet another stellar single 'Origami', following on from her standout 2017 which made her one of the most exciting names in Australian indie music. Woodes drew inspiration from her experiences in Japan when creating 'Origami'. The bubbly, euphoric track is taken from Woodes awaited second EP titled 'Golden Hour' which is set for release on the 23rd of February.
Woodes co-wrote the track with local songwriter Thief and Jussi Ilmari while on a songwriting camp in Bali with additional production by Elkkle. Simon Lam from Kllo and Nearly Oratorio worked across the mixing and Grammy nominated Andrei Eremin mastered the new single.
Woodes commented on the writing process, "Origami started quite conceptually. We began with Origami as a title and then started drawing a big mind map of words relating to the methods and structure of creating something beautiful out of paper. Quite often when I write I have everything playing out in my head like a film. In my head I see two swans or cranes with their heads bending into one another. It was important that this song lived in a world that fused the harder sounding elements in the production with a soft bed of orchestral sounds.
I've been to Japan a couple times now, and learned Japanese throughout my schooling. I was 6 years old when I first visited & was so captivated by the mountains and the beautiful shrines and temples. My Japanese teacher in primary school had an honour system in her class where if you did good work and collected enough red stamps you were rewarded with a small gift she had purchased on her trips there, which were treasured by me.
I took the track back to my studio in Melbourne and began to orchestrate it. I knew I wanted the clarinet and strings to be featured quite heavily. The final session ended up being my largest amount of layers to date – 137 tracks. It took a long time to work out how to blend that many layers into something both rich in sound yet simple on the ear."