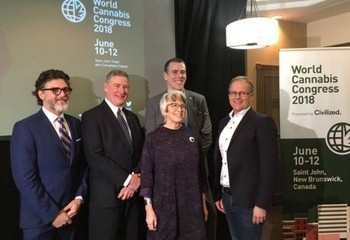 Saint John is set to host the inaugural World Cannabis Conference on everything cannabis later this year, and both the New Brunswick and Federal governments are putting funds together to actualize it.
The invite-only event has both levels of government committing $275,000 in taxpayer's money for this year's Cannabis Congress, which is scheduled for June 10 to 12, at the Saint John Trade and Convention Centre. This is coming just weeks before recreational marijuana is expected to become legal in Canada. [1]
"The Government of New Brunswick is proud to be hosting the event in New Brunswick," said New Brunswick Finance Minister, Cathy Rogers. "New Brunswick has shown you can prioritize health, safety and corporate social responsibility while taking full advantage of the many economic opportunities offered by the legalization of recreational cannabis."
"I would not have thought even five years ago that I would be standing here doing this," said Rogers, who was on hand at Monday's announcement of the event. [2]
The congress would be centered on topics such as innovation in the sector, developing and improving business practices and advancing policy reform. It would also aim at connecting global cannabis industry leaders with members of Canada's budding field.
More than 350 industry businesses, policy makers and academics from countries including Brazil, Israel, Mexico, Germany, South Africa and Uruguay, are expected to be in attendance.
Publisher of online cannabis focused magazine Civilized, and Congress Co-chair, Derek Riedle, said Saint John was the natural host city for the event, as it is the home of Civilized Worldwide—a partner for the event—and New Brunswick as a whole is a world leader in the cannabis industry innovation.
"It's amazing that over the last few years that folks in the cannabis industry not only know where New Brunswick is, they have been here or they have spoken to officials here," said Riedle. "We are incredibly well positioned in Canada to be home to the world's greatest cannabis companies because of that."
Majority of the audience would be keen on how Canada—and New Brunswick—would handle the impending legalization of cannabis.
"We thought this was a great way to bring the global leaders to New Brunswick, to experience not only our hospitality but to dialogue with one another," said Riedle.
Riedle said the certainty of recreational cannabis legalization in Canada is one of the major driving forces behind cannabis businesses setting up shop in Canada instead of the U.S.—with online outlets such as Cannabidiol Life selling CBD products. [3]
"Investors don't like uncertainty so they are flooding into Canada and that is a great opportunity."
According to Stephen Lund, chief executive of Opportunities New Brunswick, the events has the potential of attracting more companies to the province and in turn creating more jobs while stemming the flow of talent to other areas.
"To think of the people going through university right now, we want to give three or four reasons why they can stay in this province, make a very good salary, there are significant opportunities out there (in the cannabis industry) right now to do that," said Lund.
Lund also added that the province now views cannabis as a quite strategic sector.
"We're not advocating any more use. We're just saying from an economic development perspective this industry is going to happen somewhere, why not New Brunswick?" Lund said.
The province predicts that about 3,000 people in New Brunswick residents would be employed in the cannabis industry by 2022. Officials though, warn that it's not just about growing cannabis in the province, but building a financially responsible industry.
"We've met with over 50 companies across the country. We've also met with companies across the world," said Lund. "Canada is recognized as a leader in this sector and so we're going to be a leader here in New Brunswick. We already are."
Member of Parliament for Saint John-Rothesay, Wayne Longaid, said in his presentation that the economic benefit of the congress won't just come from an increase in New Brunswick cannabis companies, but also from the significant infusion of tourism funds that accompanies events of this magnitude.
Long said the federal government would be injecting $125,000 into the event, as a part of its Atlantic Growth Strategy. Rogers also said that $150,000 would be provided through a partnership between Opportunities New Brunswick and the Regional Development Corporation.
"If you would have told me five years ago that I would be standing here as part of the wonderful announcement of the World Cannabis Congress, I would have said you were absolutely crazy," said Long.
Riedle noted that the rapid social change is proving inspirational for people in the cannabis industry, and it's a good sign that now was the perfect time to schedule the congress.
[1]
https://www.ctvnews.ca/mobile/politics/pot-policies-everything-you-need-to-know-about-marijuana-legalization-1.3733749
[2]
https://www.prnewswire.com/news-releases/canadas-premier-international-cannabis-event-for-connecting-global-industry-leaders-to-take-place-in-saint-john-new-brunswick-canada-june-10-12-2018-671680693.html
[3]
https://cbdoilsandedibles.com/cbd-gummies/